WILLIAM.REED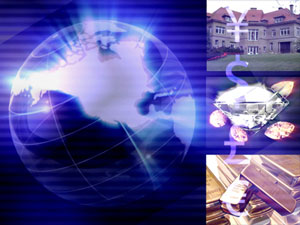 Collectively Black Americans are the richest blacks in the world. But, only two Black Americans can claim a nine-figure income. Times are changing and Black Africans are making more money than Black Americans and have made it onto Forbes' list of the world's wealthiest billionaires.
At the top of Forbes' list, Warren Buffett's $62 billion ranks him as the world's richest man. Of the world's 1125 wealthiest individuals, Mexico's Carlos Slim Helu ranks second with $60 billion. Despite being worth $58 billion, $2 billion more than last year, Microsoft's Bill Gates is now just the world's third-richest person.
Ethiopian-born Mohammed Al Amoudi is the richest Black person in the world with a total net worth of $9 billion. Al Amoudi is ranked 97th on the Forbes list and followed by billionaire Blacks such as Nigeria's Aliko Dangote ($ 3.3 billion), America's Oprah Winfrey ($2.5 billion), London-based Sudanese national Mohamed ìMoî Ibrahim ($2.5 billion) and South African Patrice Motsepe ($2.4 billion). BET founder Robert Johnson's divorce dropped him to just a $1 billion fortune.
Al Amoudi made his fortune in construction and real estate before betting on Swedish and Moroccan oil refineries. His Svenska Petroleum conducts oil exploration from the Nordic shelf to the Ivory Coast. He is the largest private investor in Ethiopia, putting money into such diverse assets as a hotel, gold mines and a food processing plant.
At the age of 21, Aliko Dangote became a stock trader off a loan from his uncle. After he built his company, The Dangote Group, into a conglomerate with interests in sugar, flour milling, cement and salt processing, he struck gold when his sugar production company was listed on the Nigerian stock exchange last year. The Dangote Group dominates the sugar market in Nigeria and is the country's largest industrial group. Dangote is ranked the 334th richest man in the world.
Oprah Winfrey is 215th on Forbes' 2008 list. The queen of American media's show will run through the 2010-11 season. She launched The Oprah Winfrey Show in 1986. It is now aired in 110 countries and draws 30 million viewers a week in the U.S. Oprah owns Harpo Studios and property in Hawaii, Illinois and Santa Barbara. She gives to needy women, children and families via Oprah's Angel Network and her personal charity, the Oprah Winfrey Foundation.
Sudanese-born Mohamed "Mo" Ibrahim ranks 462 on Forbes' 2008 list. A communications entrepreneur, Ibrahim founded Celtel, a mobile phone company that now serves 15 African countries. Sold it in 2005 for $3.4 billion, pocketing $1.4 billion. The London resident now spends his time on philanthropy and investing in Africa. He created Mo Ibrahim Foundation to award monetary prize to former African heads of state that have shown exemplary leadership in such areas as promoting political freedom, and awarded first $5 million prize in October.
Johannesburg mining magnate Patrice Motsepe is South Africa's first Black billionaire. Born in the sprawling Black township of Soweto and then trained as a lawyer, Motsepe has grown in business and dubbed the ìprince of minesî by many because of the vast fortune he has amassed through his company African Rainbow Minerals (ARM). Motsepe bought low-producing gold mine shafts in 1994 and turned them profitable by using a lean, and mean, management style. Now, not only is he the executive chairman of ARM, but he also holds a 42 percent stake in the company.
The Robert Johnson everybody knows is now only the 1,062nd richest person in the world. Founder of Black Entertainment Television, Johnson became America's first Black billionaire in 2001 by selling BET to Viacom for $3 billion. His ex-wife, Sheila, took a big chunk the following year in a divorce settlement. Johnson is rebuilding his fortune with hotel investments and now owns interest in 100 hotels. He is the first person of color to hold a controlling interest in an American professional sports team: basketball's Charlotte Bobcats. Other investments include: recording studios (Three Keys Music), and restaurants (Posh). Johnson has pledged $3 million to jumpstart a $30 million investment fund for Liberia.