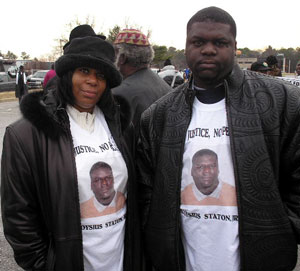 OCEANSIDE, Long Island, N.Y. (FinalCall.com) – Aloysius Staton, 24, his girlfriend, Deanna English, 22, and his friend Oswaldo Rivera did what a lot of young people do on a hot night last summer, they went to McDonalds. It didn't turn out like any other night. By its end, Mr. Staton was in handcuffs and Mr. Rivera had been struck in the head.
Both men say a gang of White teens, who had been drinking in an adjacent parking lot, attacked them. The hostility apparently stemmed from the fact that Mr. Staton, a Black man, was dating Ms. English, who is White. The incident may be viewed on www.youtube.com. Mr. Staton has been charged with assault in the second degree, which carries a prison term of two to four years. He is due back in court in Nassau County on Jan. 31.
"The arrest and prosecution of Aloysius Staton defies logic," Atty. William D. Shanahan told The Final Call. You couldn't ask for a stronger case to show innocence, particularly with the video, he said. "This is a travesty of justice, the district attorney is stonewalling. It took a month, with my client sitting in jail, to convince the DA to look at the videotape," Atty. Shanahan said. Calls to District Attorney Kathleen Rice were not returned.
"The case got this far because the investigating police officers saw a White kid bleeding and a Black and Latino running out the door of McDonalds. This is one of the worst investigations I have encountered," said Atty. Shanahan, a one-time prosecutor said. Mr. Staton allegedly hit one of the White teens with a bottle in self-defense.
Mr. Staton's mother, Kim Vaughan, told The Final Call, that her son's girlfriend phoned her that night. "When I get to the McDonalds, my son is in back of the police car in handcuffs and his friend Oswaldo in sitting on the curb bleeding from the head," she said. A White teen threatened her in front of a police detective, used the "n-word," and warned the fight wasn't over, Ms. Vaughan recalled.
"I said to the detective, 'Did you hear what he said to me?' And the detective says, 'They are only letting off steam.' And he walks away from me," Ms. Vaughan said.
Her son, who suffers from ADHD and other illness is on medication, but is a very loving young man, said the mother. Now he is in a Long Island hospital suffering from depression, she said.
Oceanside is a hamlet located in the southern part of the town of Hempstead. According to the 2000 Census, the population is 32,733, with few Blacks.
While the Black male faces a felony assault charge, three of the Whites have been charged with misdemeanor assault as youthful offenders. "They probably won't serve any jail time," Atty. Shanahan said.
State Senator Eric Adams (D-Bklyn), 100 Blacks in Law Enforcement Who Care and the National Latino Police Officers Association marched in Oceanside in September to protest.
"We cannot allow the actions of a few hate filled individuals to destroy the quality of life for everyone else," Sen. Adams said. Anthony Miranda, chairman of the Latino police organization, said, "This community has an obligation to affirmatively address the very serious allegations of racial intolerance and violence."
"This level of ignorance and racial intolerance cannot be ignored," added Marq Claxton of 100 Blacks.
Ms. Vaughan and her son attended the "Free John White" rally on Jan. 5 in Suffolk County. Mr. White was confronted by a mob of White youths at his home, who threatened his family. When Mr. White came outside with a gun to defend his family, he said a youth lunged for the gun and it fired. One youth was fatally wounded. Mr. White was convicted of manslaughter in the second degree. He will be sentenced Feb. 21. "My heart went out to this man. God only knows what this man was feeling. For me it is hard to have faith in the system," Ms. Vaughn admitted.