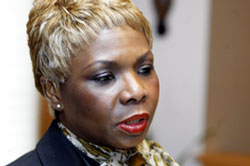 MILLER PLACE, Long Island, N.Y. (FinalCall.com) – "There is no comparison, sir, to a lynch mob in front of your home in the middle of the night," said Sonia White, 60, during her cross-examination by Suffolk County prosecutor James Chalfoux in December.
Mrs. White was grilled by the prosecutor on why she froze the night of Aug. 9, 2006, when a 17-year-old White teen, Daniel Cicciaro Jr. was killed, after he and four others confronted her son and husband in the front yard of their Miller Place home. John White was convicted on Dec. 22 of second-degree manslaughter, in what the 54-year-old construction foreman says was an "accidental" shooting of Mr. Cicciaro.
The prosecution was allowed to follow a line of questioning that her husband's attorney, Paul Gianelli, challenged. "It's become the people of the state of New York vs. the White family. That's the way they should have put the indictment caption," Mr. Gianelli snapped at Judge Barbara Kahn.
Judge Kahn said questioning Ms. White's not calling 911 was a way of challenging her credibility. The prosecutor said that it was hard to understand why she failed to make the 911 call that night, when there were 11 previous calls to the emergency number over the years.
"They needed to vilify the White's to win their case. They did what they needed to do," attorney Marie Michel explained to the Final Call, during an Dec. 27 exclusive interview with the family.
Ms. White re-told the story of what happened that August night, saying that through it all, she just wanted it to end. "I was paralyzed, standing on my front porch watching in horror and disbelief," Ms. White told The Final Call.
When the cars carrying the drunken teens entered the driveway, Ms. White said she asked her son Aaron, what was going on.
"That was the first time I heard about the e-mail," she said. "Why didn't you tell mommy. I could have done something about it," she remembers telling her son.
"I didn't tell you, because I believed I could take care of it," Mrs. White remembers her son saying.
The e-mail, sent some nine months earlier, was the pretext for the confrontation between John and Aaron White and the White teens, who forced him to leave a party and then drove to his home. The e-mail talked about raping a White girl was a hoax, according to testimony presented at the trial. A hoax that Aaron had no part in.
"I am a hands on mom," Mrs. White admitted. Before Aaron left for the party that night, his mother asked, "Who gives a birthday party in the middle of the week at this hour?"
"Summer or no summer, remember you have to get up early for work," she told her 19-year-old son.
Mrs. White, who was born and raised in Panama, explained how she tries to stay in touch with her three sons "every single day."
The out-going mother of three, who has been married to John White for 34 years, always asks her sons where they are going and to leave a number. The Whites left Brooklyn in 1988 for the Long Island town of North Babylon. They had their Miller Place "dream house" built from the ground up, moving-in in 2005.
"I always told my sons, if we can do it, you can do it," Mrs. White said.
Sons Nahshon, 24, and Aaron, now 20, were present for the interview. Both wore dress shirts, ties, blazers, neatly pressed pants and dress shoes.
"I have always told my boys, you are judged by the way you carry yourself. You are judged by your appearance, and the level of conversation you can hold," Mrs. White said, frowning on the very thought of any of her sons going out wearing baggy-pants. "You don't have to follow the norm, I tell them. I tell them that our minds are being enslaved mentally, socially and economically–some big fashion designer making money off of us."
Ms. White, who attends church every Sunday, admits that without her faith in God, she would not make it through these "difficult times."