By Richard Muhammad and
Askia Muhammad
Candidate's 'change,' 'hope' messages reverberate across racial, political and geographic lines
Obama-Clinton contest could be decided early February (FCN, 12-31-2007)
(FinalCall.com) – U.S. politics have never seen anything like Barack Obama, the 46-year-old senator from Illinois has a change-oriented message that resonates with voters and a personal history he calls a uniquely American story.
The Democratic presidential hopeful rolled through the Iowa caucuses, before a razor thin loss of two points to the heavily favored Senator Hillary Rodham Clinton in the New Hampshire primary. Prospects look good for late January voting in South Carolina and "Super Duper Tuesday," over 20 state primaries and caucuses scheduled for Feb. 5. It includes Alabama, Alaska, American Samoa, Arizona, Arkansas, California, Colorado, Connecticut, Delaware, Georgia, Idaho, Illinois, Kansas, Massachusetts, Minnesota, Missouri, New Mexico, New York, North Dakota, Oklahoma, Tennessee, and Utah.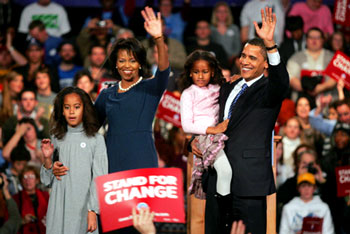 The self-described "skinny kid with the funny sounding name," whose father was from Kenya and whose mother was from Kansas, has already assured himself a place in American history, even as he continues his quest for the White House.
"If you know who you are, if you know what you believe in, if you know your principles, if you know what you are fighting for, then you can reach out to those you don't agree with," Mr. Obama told a crowd of more than 1,500, including students, assembled in a Concord, N.H., high school. "If they are Republicans and independents who are working with me, that makes us stronger." Two days before the Jan. 8 New Hampshire primary, Mr. Obama's lead over Hillary Clinton had stretched to an impressive 10 points, according to opinion polls.
The first-term senator said he would demand sacrifice from Americans when necessary, be frank about his goals and open in his governance.
Mr. Obama's open-armed appeal, typically heard in general elections not primaries, was aimed not only at independents and Republicans, but at Democrats who the Obama campaign believes are attracted by an inclusive message. The approach has made him a target of his main rivals, Sen. Clinton and John Edwards, who argue his vision is naïve. Bill Bradley, former senator from New York and onetime presidential hopeful, embraced Obamania with a Jan. 6 endorsement of the Illinois Democrat.
'Change' message embraced by voters
"A win in Iowa proves that Barack is just not a Black candidate, but that he's a candidate of broad appeal that just happens to be African American. He does have street credibility. He's been a civil rights lawyer and worked in our community. I think that the pundits were manipulating the polls a little bit because you could tell that he had both the organization and support to pull it off," said Dr. Anthony Asadullah Samad, a Los Angeles-based syndicated columnist, author and political science professor.
Another clear sign Sen. Obama's campaign has invigorated common folk: Everyday people are the majority of over 700,000 contributors that gave $100 to his cause, Dr. Samad said.
Record numbers of Democratic Caucus-goers in Iowa pushed Sen. Obama forward, giving him a stunning eight-percentage-point victory over Sen. Clinton (D-N.Y.) and former Sen. Edwards (D-N.C.).
Mr. Obama preached a message aimed at unifying the country and changing the errant national course, and he attracted supporters of all ages groups, income and education levels, females as well as males, in a state with a 95 percent White population. Young people, in particular, have flocked to his campaign, turned their enthusiasm into votes in Iowa, and are pushing hard in other states.
"They said this day would never come," Mr. Obama said in his Iowa victory speech. "They said our sights were set too high. They said this country was too divided, too disillusioned to ever come together around a common purpose. But on this January night, at this defining moment in history, you have done what the cynics said we couldn't do."
"People were real interested in seeing a change in the United States," Tom Petersen, an Obama Campaign Precinct Captain in Durant, Iowa, told The Final Call. "I think they're extraordinarily dissatisfied over the last seven years with the direction the country was heading. All candidates were talking about change, of course, but Mr. Obama was saying it first and longest, and I think that's why it resonated more with his followers."
"In the past six months, I've never heard one person concerned about race. And the fact that Hilary was a woman was not a concern. There's so many more important issues, that the fact that Obama was Black and Hillary was a woman just wasn't important to anybody," he said.
"Health care, the war in Iraq, education, and the fact that corporations seem to be running America, were huge concerns of everybody," Mr. Petersen added.
Political analysts and scholars agreed. "People generally are fed up with the lies, corruption, defeat, war, management and cronyism of the Bush administration," said Dr. Earl Ofari Hutchinson.
"Color doesn't always matter when it comes up against people's desire for change. People want to see fresh, new blood, new faces and talents and the same applies to (Iowa Republican Caucus winner and former Arkansas Gov. Mike) Huckabee on the Republican side."
"The fact that he is a fresh new face and hasn't been contaminated by Washington, as have all the others, and we don't trust Washington anymore," said Mr. Petersen.
"We need to manage our expectations of any candidates who can become president because there is only so much a president can do," observed Chris Rabb, founder of Afro-Netizen.com, a leading Black blog.
Even as president, Mr. Obama might not be able to move on Black issues, if the country feels other problems have greater priority, he said. Critics will say he has a radical Black agenda, which happened to President Clinton, who moved to the right to defuse detractors, Mr. Rabb observed.
And, he added, "I'm afraid. I'm very much afraid, there are people who are far less threatening than he (Mr. Obama) who have been assailed."
Though Rev. Jackson was a viable candidate, he was never a front-runner, Mr. Rabb noted. With front-runner status Mr. Obama terrifies certain sectors of America, he said. That sector runs from extreme white supremacist groups to respected right-wing political organizations, commentators and operatives, he argued. The White Power movement wants to physically harm Mr. Obama, while the right-wing Whites want to discredit him, Mr. Rabb said.
Right wing bloggers have already characterized Mr. Obama as an extremist Jihadist and called him "Hussein Osama" to race bait readers, mischaracterized his home church in Chicago as extremist, and Fox News spread a false report that he attended a madrassah, an Islamic school, as a child, he noted.
Will South Carolina go for Obama?
Mr. Obama has preached "a progressive populism" against the divisions of race, class and party in America, explained Dr. Ron Walters, a leading Black political scientist from the University of Maryland. "In that sense, if it continues it may mean the era that we have been in–the mean, nasty, ugly racist era that we have been in–dominated by right wing conservatism may be finally coming to an end," he said.
Mr. Obama's success is also connected to the Rev. Jesse Jackson's campaigns, according to Dr. Walters. In his 1984 and 1988 presidential runs, Rev. Jackson brought a message that Iowans have warmed up to, he said. Rev. Jackson talked about the crisis of family farmers, poor health care, and economics that did not favor ordinary people, Dr. Walters pointed out.
"I think he (Rev. Jackson) laid the way for the theme that is now so popular, the theme of hope. The theme of hope is really what Barack Obama has talked about. Hope for end to the war, hope for health care, hope for a middle class tax cut and so forth. He has given a modern definition to the theme of hope, but let's be clear that comes right out of the civil rights movement, right out of the African American experience," he said.
The Obama "politics of addition" also echo Rev. Jackson, who focused on bringing in new voters, just as Mr. Obama has appealed to young people and new voters to get involved, Dr. Walters noted.
"The White vote in a state like Iowa has given permission for Black people in South Carolina to vote for Barack Obama," said Dr. Walters. Blacks could be as much as 50 percent of voters in the Jan. 26 Democratic primary in South Carolina. Rev. Jackson, who won the primary in 1988, has endorsed Mr. Obama.
The leading knock against Mr. Obama, particularly among Black political elites that back Mrs. Clinton, was that he could not capture White voters. With that knock destroyed, Mr. Obama's political war chest, ability to go back to supporters for more money, popularity and media attention make him a formidable candidate.
There is also a question: Will Clinton family popularity trump the chance for Black voters to significantly propel a Black man toward the presidency?
Oprah Winfrey lent her star power to the Obama mission in early December and helped draw 29,000 to the University of South Carolina's sports arena. The South Carolina campaign invited residents to a free gospel concert with Yolanda Adams June 6 in Florence, S.C., and a June 7 chat with Obama backer and TV star Boris Kodjoe in Columbia, S.C.
The South Carolina campaign has seen Rep. Jesse Jackson, Jr., the son of the civil rights leader, cut vote-Obama radio ads running on gospel and R&B stations. Rep. Jackson is featured in a video on scbarackobama.com. Prominent Black pastors have been pursued and joined his campaign as Clinton backers worry about alienating their congregations or political supporters.
Rep. James Clyburn (D-S.C.), a former Congressional Black Caucus chair and high-ranking party official, has predicted Mr. Obama would take South Carolina, if he won Iowa. Rep. Clyburn has not made any endorsements.
The need for a Black Agenda
Despite Mr. Obama's historical significance, Dr. Samad said, Blacks must pay attention to the issues that are important to them, such as quality healthcare and education, employment and affordable housing.
"The Hon. Elijah Muhammad taught us that we have to be vigilant on all fronts. The whole idea that one person is going to save us is really outlandish. We all have to be busy on all fronts, so whether Barack wins or not, Black people can't fall asleep again or we'll find ourselves back in slavery," he said.
Dr. Walters said a Black agenda must be put before Mr. Obama. "The question is where will he give credit to these issues?" Though his campaign has been race neutral to avoid alienating Whites, Mr. Obama has addressed Black issues when speaking to Black audiences, but not as part of national campaign, he said.
"We should publically press him any way we can, the thing about presidential politics is that it is a media fishbowl and raises issues to a national level," he said. That means presidential and congressional candidates have an opportunity to hear and address Black concerns, he said.
"I don't care who is running we have to have–got to have–an agenda and that agenda has got to say African American at the top, African American in the middle and African America at the bottom," said Chicago political analyst Bob Starks, who hosted an Iowa Caucus night radio show on WVON-AM.
Every group will be giving the presidential candidates an agenda, the longtime political scientist said. Blacks must have an agenda, not allow the Democrats to dump their issues, and hold candidates accountable, Dr. Starks said. The agenda has to include urban, economic, health, and African issues, he added.
"We can no longer allow ourselves to be the last to be considered in any of these areas," said Dr. Starks.
Final Call staffer Charlene Muhammad and the Associated Press contributed to this report.