UNITED NATIONS (FinalCall.com) – When President Bush first announced plans for formation of a new U.S. military command based in Africa, he promised AFRICOM would "strengthen our security cooperation with Africa and create new opportunities to bolster the capabilities of our partners in Africa."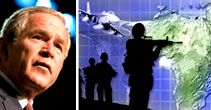 Critics of the plan said the only thing AFRICOM would bolster was the U.S. government's hold on Africa's resources, especially oil. Almost a year after the Bush announcement, critics remain unswayed and AFRICOM is based in Europe.
Officially launched Oct. 1, 2007 in Stuttgart, Germany, the military command is under the leadership of four-star General William E. "Kip" Ward, a Black man. AFRICOM was the sixth U.S. unified combat command launched in the past 12 months, according to Jane's Defense Intelligence Report.
Jane's Defense said the move to create AFRICOM "reflects Africa's new strategic importance in terms of commodity supply and the war on terrorism."
Analysts like writer Jean Damu suggests the single most important reason for AFRICOM is to keep an eye on Nigeria, the "most prolific provider of Africa's oil to the U.S. African oil exports to the U.S. exceed those from the Middle East as of Feb. 2007." According to Mr. Damu, the State Department views Nigeria as a "failed state," and wants to make sure oil keeps flowing.
"It is absolutely correct that AFRICOM is there to secure U.S. oil and natural gas interests in Africa," said Bill Fletcher, former director of TransAfrica Forum and a noted lecturer and author. He doesn't see Nigeria as a failed state, but described the powerful West African nation as an "unstable variable" on the continent.
"And," added Mr. Fletcher, "don't forget the war on terrorism."
President Bush sees everything through the lens of terrorism and believes the only way to curtail it on the continent is to militarize Africa, said Mr. Fletcher.
Jane's analysis echoed what many critics of AFRICOM have noted: "The concept of AFRICOM and its future roles and deployments, in particular, has not been fully explained. U.S. Dept. of Defense officials have stressed that AFRICOM is not intended to fight wars in Africa, but have not quelled rumors of future U.S. engagement."
That lack of definition and unclear intentions has Somalia's ambassador to the United Nations concerned. "It is not that we are against a U.S. African Military Command–it is that we do not understand its program of engagement," said the ambassador, Dr. Elmi Ahmed Duale. "The U.S. must sit down with the African Union (AU) before it may engage in any interventions, and what we do not know is if the U.S. understands this," Amb. Duale stressed.
In November, Gen. Ward traveled to AU headquarters in Addis Ababa, Ethiopia to meet with the chairperson of the AU Commission, Prof. Alpha Omar Konare, former president of Mali. At a press conference, Gen. Ward told reporters he looks forward to developing a relationship with AU member states and regional organizations. "Fostering this relationship begins with dialogue," Gen. Ward said, according to AFRICOM Public Affairs.
African leaders are not convinced about the promised gains of stationing U.S. troops on the continent, said writer Ikechukwa Eze in Nigeria's Business Day. "Apprehension exists about the extent to which AFRICOM may violate rules of sovereignty and its attempts to replace the AU," he said.
Major regional organizations in Africa–the Southern African Development Commission (SADC) and the Economic Community of West African States (ECOWAS)–have taken firm stands against AFRICOM.
In October, the Zambian government's chief spokesman, Mike Mulongoti, speaking on behalf of SADC, said allowing AFRICOM to be based on the continent would be "like allowing a giant to settle in your home."
In November, Gen. Andrew Azazi, ECOWAS chief of defense, said the organization's defense ministers would have the "final say" on AFRICOM, in response to President Ellen Johnson-Sirleaf telling reporters Liberia would welcome AFRICOM.
In December, AFRICOM's deputy commander for military operations, U.S. Navy Vice Admiral Robert Moeller, paid a visit to Liberia, to see the unveiling of three new battalions of the Liberian Armed Forces. Since 2006, the U.S. government has supported the development and training of Liberia's military. Vice Adm. Moeller reportedly met with President Johnson-Sirleaf, her minister of defense and Liberian legislators.
It appears that the U.S. attempted to stir discord on the continent when a story circulated that after a recent Washington visit Nigerian President Umaru Musa Yar'Adua wanted to partner with AFRICOM.
The newly elected president cleared the air in an interview with the Hausa Service of the Voice of America. President Yar'Adua said he only asked Mr. Bush to help Africa to establish its own version of an African High Command that could be managed by Africa, without allowing Americans to site their base in Nigeria.
The Defense Dept. quickly said any decision to establish AFRICOM in the West African region is "not out of design to be close to the oil-rich African states," but a desire to help Africa establish its own security.
Dr. Leonard Jeffries, a noted professor of Africana and Black Studies at City College of New York, told The Final Call that AFRICOM works against the concept of a United States of Africa. Pan Africanists do not see having a U.S. military command post that can strike at a moment's notice against any African nation as a solution to African problems, he said.
But, he added, a real in-depth systems analysis has not yet been completed. "You may report that Pan African scholars, activists and eminent persons are working together to get a proper information-flow on this U.S. African Command, and we will release our position in the very near future," Dr. Jefferies said.