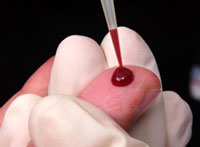 LOS ANGELES (FinalCall.com) – To help combat rising numbers of HIV/AIDS infections, the city council launched an initiative to test one million people by the year 2010.
The "City of Los Angeles HIV Testing Initiative" is a three-year pilot program that will expand HIV counseling and testing. It debuted as part of the "I Stand With Magic" campaign Dec. 1 World AIDS Day.
The initiative hopes to make testing and counseling routine, easily accessible, and expand testing in communities of color, especially among Blacks and Latinos, who are disproportionately impacted by HIV/AIDS. A Gilead Sciences Foundation grant of more than $99,000 funded the program, which was implemented with help from Planned Parenthood of Los Angeles, Charles R. Drew University of Medicine and Science, Women Alive and the Minority AIDS Project.
As of June, Blacks in Los Angeles accounted for 10,695 AIDS cases, according to the county health department. Public health officials and advocates insist the numbers would be lower, if people knew risks associated with contracting HIV/AIDS and avoided risky behavior.
The most important thing is for people to know their status and make early choices about health management, said Cynthia Davis, an assistant professor and program director for the Drew University Medical Science Institute.
"Twenty-five-years-ago, HIV was an automatic death sentence. There were no medications, and nothing anyone could do but wait to die. Today, there is very effective treatment that will enable you to live almost a normal life without severe side effects, because doctors can change treatment combinations. It just means that you'll have to take medications for the rest of your life, but you'll live," she said.
People do not die from the AIDS virus, but weakened, eroded immune systems, Prof. Davis observed. Early detection can help to avoid the problem, she said. Whether people desire conventional or holistic treatment alternatives, the point is to take action, Prof. Davis added.
"This is not going away and Blacks have to understand that they do have some power and control in making appropriate decisions. But if you don't know you're infected and living a lifestyle in the fast lane, your immune system will deteriorate faster. We are in serious denial as a community," Prof. Davis said.
"It's a coping mechanism. We, Black people, are under siege. Genocide is being affected against us and to deal with all of this stress, racism and negative things that are bombarded upon our community all the time, we avoid the issue."
If Blacks do not take America's HIV/AIDS crisis seriously, their experience could eventually mirror South Africa's, Prof. Davis warned.
"I saw a film about AIDS orphans, titled, 'Angels in the Dust,' which indicated that over 600 people are dying (in South Africa) per day, because they don't have meds. I'm an AIDS expert and this shocked me! I thought, 'could this scenario happen in the U.S.?' Currently, no, because we have access to the medicine and live a normal life, where HIV is considered a chronic, manageable disease, just like diabetes and heart disease. But, there's going to come a point when the U.S. will not have any money to give people AIDS drugs for free. They will have to start paying for it and it is the poor who will be left holding the bag. We've got to stop thinking, 'It will never happen to me,' " Prof. Davis said.