FCNNEWSSOURCE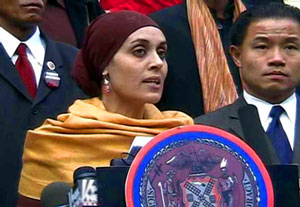 NEW YORK (FinalCall.com) – The Khalil Gibran International Academy (KGIA) is the first publicly financed institution in the United States committed specifically to learning the Arabic language and culture. However, when the Brooklyn-based school's doors opened in September, the one person that was missing was its founder, Debbie Almontaser, who stepped down as principal in August, after newspaper stories and op-eds called for her resignation.
On Oct. 16, Ms. Almontaser spoke out for the first time at a press conference on the steps of City Hall, accusing Mayor Michael Bloomberg and Chancellor Joel Klein of succumbing to a right-wing smear campaign and forcing her to resign.
"I am asking for my job back," Ms. Almontaser said, reading from a prepared statement, adding that she plans to sue the city for violating her constitutional rights.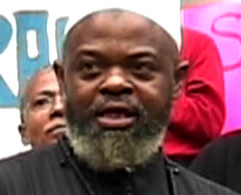 "Khalil Gibran Academy was my American dream, and it turned into an American nightmare," Ms. Almontaser stressed.
A national fury erupted in August after the popular educator talked to The New York Post newspaper to defend a Muslim girls' group for using the phrase "Intifada NYC" on a T-shirt they were selling. While the group has an office on the same floor of the Yemen-American association that Ms. Almontaser belongs to, she is in no other way connected to the group. Her comments concerning the word intifada, which means "shaking off," came in response to a question from the Post reporter about the meaning of the word.
Ms. Almontaser told reporters at her press conference that the administration "should have supported against the attacks" from neo-cons such as Daniel Pipes. "Instead, they forced me to issue an apology. And when the voices of hate continued, they forced me to resign and threatened to close the school if I didn't," she said.
Her attorney, Alan Levine, told reporters that Ms. Almontaser will sue the City of New York, seeking reinstatement and financial compensation due to her constitutional right to free speech being denied which she should not have been fired for.
City Council Education Chairman, Robert Jackson (D-Manhattan) stated, "What happened to her is wrong. What's happening to the school is wrong. And we're standing up and saying that we must correct that injustice."
Another politician throwing his support behind Ms. Almontaser is New York State Senator Bill Perkins (D-Harlem). "She was unfairly attacked for reasons not related to her skills and her vision, but because she is a Muslim," he told The Final Call. "There's much more support for her than might be evident," Sen. Perkins stressed.
One such person supporting the embattled educator, is Michelle Fine, distinguished professor of Psychology and Urban Education at CUNY's Graduate Center in Manhattan, who just co-authored a book on Muslim American youth post 9/11.
"I am most eager to join the diverse chorus of voices that support both the Khalil Gibran Academy and the leadership of Debbie Almontaser, and call on the Department of Education to re-appoint her as the principal of the school," Ms. Fine noted in her prepared statement.
Ms. Fine said that Ms. Almontaser and the school have been served a vicious smear campaign.
"Hate-filled blogs and media criticisms of the school ironically reveal just how desperately NYC needs the KGIA," Ms. Fine opined.
Professor Anthony DiMaggio, who has taught Middle East Politics and American Government at Illinois State University, is author of the forthcoming book, "Mass Media, Mass Propaganda: Examining American News in the 'War on Terror.'" He recently said that he: "Wanted to believe that we'd come far enough in this country that Muslim-Americans and non-citizens alike don't have to suffer under irrational hatred, fanaticism, and repression."
In his essay titled "The Right-Wing's War on the Gibran Academy," Prof. DiMaggio notes: "The Gibran Academy controversy comes at a time when Americans are desperately in need of shedding their parochialism of foreign cultures and languages. As the United States has become an international pariah during its occupation of Iraq, attacks on diversity can do little but strengthen American isolationism and ignorance."
"The defamatory attacks on Debbie Almontaser and the Academy are part of a larger effort to marginalize the American Muslim and Arab communities," states Council on American Islamic Relations (CAIR) NYC chapter community affairs director, Faiza N. Ali.
Imam Al-Hajj Talib Abdur-Rashid, of the Harlem-based Mosque of Islamic Brotherhood Inc., tells The Final Call he agrees with the CAIR assessment.
"Islam is continually taking a foot-hold in the public square, becoming a way-of-life here in America; and as the religion of Islam grows, all the evil plots are being hatched to stop it," Imam Abdur-Rashid noted. The neo-cons are "playing on the fears and lack of knowledge of the people in order to counter the progress that Islam is making," he added.
The Department of Education sent reporters a prepared statement from spokesman David Cantor denying officials threatened to close the school. "The chancellor agreed with her decision, accepted her resignation and now considers the matter closed," the statement read.
An acting principal, Danielle Salzberg, is now running the school.