FCNNEWSSOURCE
FCN Editorial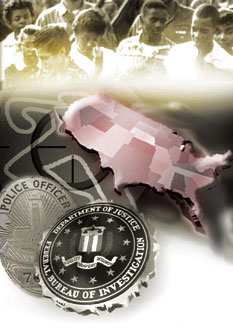 Before the outrage caused by the case of Jim Crow Justice facing the Jena 6 could fade from the headlines, Whites in this country were busy perpetrating even more heinous crimes, many committed by individuals, many others committed by the criminal "injustice" system–which we know is designed to unfairly punish "just us."
Witness: The "justice denied" acquittal after only 90 minutes of deliberation, by yet another all-White jury, of seven guards on manslaughter charges associated with the death of 14-year-old Martin Lee Anderson after he was videotaped being beaten, kneed and kicked by guards at a Florida boot camp.
Witness: Just one day before that decision, "Jena 6" teenager Mychal Bell was sent back to jail. The 17-year-old Mr. Bell has already served 10 months in prison for an undeserved conviction as an adult for a schoolyard fight in which he and five others beat up a White student. The fight occurred after White students hung three nooses from a tree where the Black students had sat.
Mr. Bell was set free on bail just two weeks before, after an appeals court found he had been improperly tried as an adult. But the same judge who wrongly tried Mr. Bell in the first trial–District Judge J.P. Mauffrey–sentenced him to 18 months in jail on charges pending from another case before the school fight occurred. Judge Mauffrey, who refused to recuse himself, also ordered Mr. Bell's parents to pay all court and witness costs.
Witness: The gruesome torture and defilement of 20-year-old Megan Williams by six White tormentors, including one mother and daughter and one father and son–so much for White American "family values." Ms. Williams was kicked, beaten, raped and scarred, forced to eat excrement and to drink from toilets, her hair was pulled out, all the while being cursed and called racial epithets.
Witness: Copy-cat noose hangings. Nooses have been hung at the University of Maryland, Columbia University, the U.S. Coast Guard Academy, and at least a half-dozen other campuses. At a high school for deaf students in Washington, D.C., six White students and one Black student detained and beat a Black student and wrote "KKK" on his face with indelible markers.
How many more of these horror stories can Black folks be expected to endure before rising to demand the dignity our people deserve?
For those who may be hoping for a civil discourse among Whites, such an outcome is becoming more and more unlikely. In one discussion this summer in a Denver-area Catholic high school, a student discussion of whether or not they should study Spanish language courses disintegrated into a shouting match in which students reportedly ended the class with chants of "White power! White power!" and "Mexicans should go back to Mexico."
The xenophobic, and badly uninformed students did not even realize that until the illegal invasion of Mexico in 1846 by U.S. military forces, the states Colorado, Nevada, Arizona, New Mexico, California, and Wyoming were all part of Mexico! Their message all over the country to non-Whites is clear and unambiguous: Race hatred, pure and simple.
God's Mercy is among us, in the person of the Honorable Minister Louis Farrakhan, who is living evidence that God's World will not fail. God loves us. He came for us and His desire to save us is more powerful than all of the combined hatred of the slave-master and his children.
We must share our part of the responsibility for ourselves, our families, our communities, our Nation. We must unite. We must come into unity in order to serve and protect ourselves and our people.