ASKIAM
Senior Correspondent
8 acquited in death of Martin Lee Anderson

(FinalCall.com) – An all-White jury denied justice in a Florida panhandle town Oct. 12, when the defendants in the Martin Lee Anderson manslaughter trial were acquitted in the death of a 14-year-old boy who died one day after being beaten, kneed and kicked by guards at a Florida juvenile boot camp. After a 3-week trial, the jury needed only 90 minutes to issue a verdict of not guilty.
Anger over the verdict was obvious outside the courtroom according to wire service reports, where bystanders screamed "murderer" at former guard Henry Dickens as he described his relief at the verdict.
Black elected officials expressed outrage. "Ninety minutes of deliberation for a child's life, a child who we saw beaten to death on videotape over and over again?" complained Florida State Senator Frederica Wilson, from Miami. "That's un-American. That is racist, discriminatory, bigotry."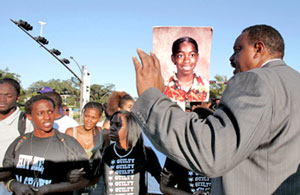 "It's almost as if they've declared open season on Black boys in Florida," she said.
The acquittals in Panama City, Fla., ignited street protests in Tallahassee, the state capital 120 miles away. Hundreds of Black students, many from Historically Black Florida A&M University nearby, protested the acquittals outside the Capitol.
"You kill a dog, you go to jail. You kill a little Black boy, nothing happens," Benjamin Crump, an attorney for the family, said on the courtroom steps following the verdict, according to a published report.
And then for authorities to say that the child's sickle-cell trait is responsible for his death is "adding insult to injury," said Atty. Crump.
The initial autopsy blamed a sickle-cell trait for Mr. Anderson's death, but a second autopsy said the death was caused by the severe, 30-minute beating and the affect from the victim being forced to breathe the ammonia while officers covered his mouth.
During the trial, the jury repeatedly watched the graphic videotape of the ordeal, which triggered outrage from Black leaders, children's advocates and human rights activists nationwide. Said Robert Anderson, Martin's father: "There was enough evidence. It was there in black and white. What do you need, rocket science? I'm sick of this crap."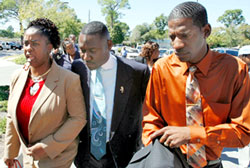 Mr. Anderson's mother, Gina Jones, stormed out of the courtroom when the tape was shown. "I cannot see my son no more. Everybody sees their family members. It's wrong," she sobbed. Other family members repeatedly sat through the painful video during testimony, and complained that local officials tried to cover up the case. When news of the case became known, it sparked outrage and spelled the end of Florida's system of juvenile boot camps.
The defendants testified they followed the rules at a get-tough facility where young offenders often feigned illness to avoid exercise. Their attorneys claimed that Mr. Anderson died not from rough treatment, but from a previously undiagnosed blood disorder. Defense attorneys argued that the guards properly handled what they thought was a juvenile offender faking illness to avoid exercising on his first day in the camp. They said Mr. Anderson's death was unavoidable because he had undiagnosed sickle cell trait, a usually harmless blood disorder that can hinder blood cells' ability to carry oxygen during physical stress.
Officials from the Department of Justice in Washington and U.S. Attorney for the Northern District of Florida announced they were reviewing the state's prosecution.
"A higher court of law will judge this case at another level [so] that we will get real justice that will happen really soon," said Florida State Rep. Frank Peterman Jr., from St. Petersburg. Gov. Charlie Crist acknowledged that he has been informed by the Justice Department that it plans to review the case. The State Legislature, with Gov. Crist's encouragement, agreed to pay Mr. Anderson's family $5 million earlier this year to settle civil claims.
"I don't know what type of message that Bay County is trying to send to the state of Florida and to the rest of the country, but certainly this is not justice," said State Rep. Terry Fields, who is from Jacksonville.
"Poor Martin, there's no justice for him," Sen. Wilson added. "I'm just hoping the federal government now will take over the case, do further investigation because his civil rights and everything else was abridged in this."
The defendants faced up to 30 years in prison had they been convicted of aggravated manslaughter of a child. The jury also decided against convicting them of lesser charges, including child neglect and culpable negligence.