ASKIAM
Senior Correspondent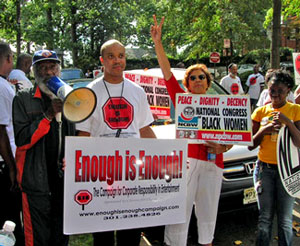 WASHINGTON (FinalCall.com) – Hundreds of demonstrators, most from Mt. Ennon Baptist Church in nearby Clinton, Md., continued their weekly Saturday protest against the "derogatory images and negative messages" about Black people that air on Black Entertainment Television (BET) Oct. 6, on the sidewalk in front of the home of the network's President, Debra Lee.
Under the banner of "Enough is Enough!" the protestors carried signs reading, "I am not a pimp," and "I am not a bit-h."
The Enough is Enough campaign is demanding corporate responsibility in entertainment, and to protest the "commercialization and marketing of negative and derogatory images of Black men and women in the entertainment media."
The campaign is demanding that media and music companies develop "universal creative standards" which prohibit lyrical and visual content that "objectifies, degrades, or promotes violence against women, promotes illegal activity, and portrays Black and Latino men as gangsters, pimps, thugs and players," according to campaign literature.
The campaign extends to advertisers on television and radio, and demands that the Federal Communications Commission and Congress regulate indecency between the hours of 6:00 a.m. and 10:00 p.m.; to investigate "payola" in the entertainment industry; and for the local, state and federal governments to divest public tax dollars and contracts from corporations which refuse to end their sponsorship of offensive content.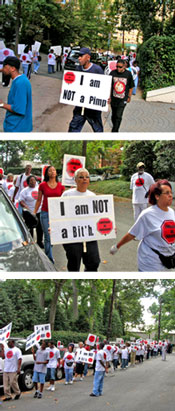 "We've had people who've said they are going to wait us out," attorney Dr. E. Faye Williams, President of the National Congress of Black Women told the crowd. "Well, my brothers and my sisters, they've got a long time to wait. Nearly 15 years ago, Dr. C. Delores Tucker and the National Congress of Black Women saw where this disrespect for women, disrespect for Black people, saw where this was going and decided then that enough was enough.
"It was very lonely 15 years ago when we tried to tell our people where this was going… We're here to tell them we're not going away. We'll be here every Saturday until we, as the song says, 'get some satisfaction.'"
The movement recognizes the power of media and entertainment corporations to shape attitudes in this country, according to the Rev. Dr. Delman Coates, Pastor of Mt. Ennon Baptist Church. "This is not a partisan issue. It's not a Republican issue. It's not a Democratic issue. It's not a liberal issue. It's not a conservative issue," the Rev. Coates told the crowd. "There are people on both sides that might disagree on a variety of other issues, but they stand in solidarity on this one issue, and that is that it is not right to denigrate and degrade Black women and people of color.
"Christians, preachers and ministers are going to have to get beyond those issues that divide us and come together around those issues that unite us. I'm so glad to be here as a Christian Black minister, pastor, with the National Congress of Black Women, and with the National Organization for Women (NOW), the Feminist Majority, and whomever. This is an issue that brings together all of God's people," he said.
Keith Silver, D.C. Coordinator for the Southern Christian Leadership Coordinating Committee (SCLC), activist Dick Gregory, Prince George's County Council member Tony Knotts, also expressed solidarity for the campaign.
"You know you hear a lot of talk," said Mr. Gregory. "You hear the right-wing Black folks, the right-wing White folks talk about 'family values.' This is family values. They're talking about White-family-values. They don't care nothing about ours.
"I just say to you, that what you do here…don't think you're here by yourself. NBC, CBS, they be looking. All them other folks, they don't know who's going to be next. If we be here a year, I'll be here with you. This house we're standing in front of now, if it wasn't for the Civil Rights movement, she couldn't live there. She couldn't live there. Again, I just say, don't underestimate yourself."
The campaign began in August, and the demonstrations at the BET president's home in an exclusive neighborhood surrounded by embassy chanceries and a luxury hotel began Sept. 15, and have grown in size each week, to as many as 500 participants.
"People ask us why we are demonstrating in front of Miss Debra Lee's home," Dr. Williams said. "She says that it's endangering the life of her and her child. Well, let me say to you every day that we turn on BET there's an endangerment to the minds of our children, and we will be here until we get some satisfaction.
"We are just absolutely in shock that there are not more pastors who can see the need to be out here to clean up the airwaves.
"We've been getting beaten up for 15 years. We've been getting talked about, but we're still standing. We want you to throw your arms around your pastor, because we know he's been getting a tough time too. He's been getting threats just like we have. But I want you to know, we can stand up to whatever goes on out there. I want you to keep on coming every Saturday until they stop the filthy talk, stop putting down Black people, stop putting down Black women in particular."
"Enough is enough," shouted members of the crowd.
"Enough is enough, and we must continue to say it!" Dr. Williams continued.