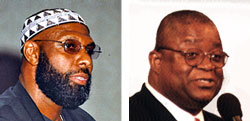 DES MOINES, Iowa (FinalCall.com) – The pain of Black Iowans surfaced in July, when a national study released by the Washington D.C.-based Sentencing Project reported that Iowa ranked "No. 1" in America "in the ratio of Blacks to Whites in prison." The study noted that Iowa incarcerates Blacks at a rate of 13.6 times that for Whites–more than double the national average. Observers say that job opportunities for Blacks in Iowa have dried up at corporations such as John Deere and Rath Packing in Waterloo, Iowa. So, young Black Iowans are selling drugs on street corners.
The U.S. Census Bureau states that the 2006 estimated over-all population for Iowa is 2,982,085, with Blacks making up two point three percent.
"There are about 800,000 Blacks in Iowa, so it is kind of unfair to compare us to New York, Chicago and Los Angeles," offers Iowa State Representative Wayne Ford (D-65th). The 12-year legislative veteran said that there is more to the Black experience in Iowa than how "many of us are in jail."
"For six years I labored in the state legislature alone," he told The Final Call. There are now four Black state legislatures. "It has been brutal," Rep. Ford added.
Rep. Ford explained to The Final Call that Tavis Smiley's book "Covenant With Black America" became a catalyst to begin a serious dialogue in Iowa about race and the issues of the Black community. He said the former administration, under the Gov. Tom Vilsack had convened a task force, and the present governor, Chet Culver merely reconvened the earlier effort.
Rep. Ford noted that it has been the media and the progressive community that have made state government the focal point in solving the issues facing Black Iowans. "But, you will find that there are many people in the community who have been struggling for a very long time to better the conditions of our people," he stressed. He runs a grass roots organization called, Urban Dreams.
Reverend Keith Ratliff Sr. of Des Moines, Iowa is the NAACP State Conference President and he says that the misperception of the Midwest is that we don't have the same problems as any other urban city in America. "So what happens when there is a national dialogue concerning the condition of Blacks, the Iowas, Minnesotas, Wisconsins get left out. "We have gangs, we have drugs, we have poor educational facilities, we have HIV/AIDS and housing issues," Rev. Ratliff said.
"We've had gangs for the past 20 years, and now we have crack-cocaine," states State Rep. Ako Abdul-Samad (D-66th). Rep. Abdul-Samad is also the CEO of a non-profit organization Creative Visions. In 1997, his 19-year-old son, Ako White Abdul-Samad died as a result of gang violence. "The night that he told me he would finally leave the gang, he was killed," the former Black Panther said. His son's name is one of 42 young people killed in street violence that have been painted on the side of the building which houses Creative Visions.
"We received $200,000 dollars from the governor from the covenant which will be used by the Commission on the Status of African Americans–that allows us to move forward in dealing with our issues," Rep. Abdul-Samad said.
"This is our tax money that we now have use of," argues Rev. Ratliff.
But, he cautions that the real work lies within the Black community. "It's going to take all of us pulling together to solve these issues. And, we can no longer ask others to do it, we as Blacks must do for ourselves," Rev. Ratliff stressed. "
"Right now we are making history," states Rep. Abdul-Samad, because we will are pulling together across the state to address our issues. We will soon present our 'Black Agenda' and that is historic for Iowa,' he said.