Death penalty: U.S. states widen scope for executions (FCN, 10-05-2006)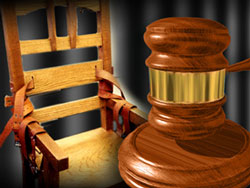 LOS ANGELES (FinalCall.com) – A coalition of death penalty opponents began to carry their message against capital punishment on foot with an 800-mile walk through 15 counties within California, September 15 in San Diego.
The walkers aim to draw attention to the issue of the death penalty, unite local activists, and to encourage the district attorney in every county along the walk route not to seek the death penalty in any case. The 2007 Walk to Stop Executions ends November 30 at the State Capitol in Sacramento.
They also intend to raise $6,000 to help educate the public about the inherent flaws in the death penalty, a Death Penalty Focus (DPF) spokesperson said.
"There are quite a few responses to the death penalty. Our system is not perfect. We've made a lot of mistakes and sentenced people to die for crimes they did not commit and for years we thought we had right person. The punishment cannot be reversed and with the death penalty, we risk executing the innocent," stated Stefanie Faucher, program director for DPF.
DPF is a coalition of organizations and individuals dedicated to, among other things, helping to propel the U.S. to a more humane, fair and honorable system of justice.
There were a total of 3,350 death row inmates within U.S. prisons as of January this year, according to the National Association of Colored People (NAACP) Legal Defense and Educational Fund, Inc.'s (LDF) Winter 2007 quarterly report, "Death Row U.S.A."
There are more Blacks (45 percent) and Whites (42 percent) on death row compared to other ethnicities. Latinos comprise 11 percent and Native Americans and Asians are just over one percent. Men dominate death row at 98 percent compared to women at two percent.
One of these men was Kenneth Foster, Jr., until Texas Governor Rick Perry commuted his death sentence to life in prison one day before his scheduled execution on Aug. 31. The Texas Board of Pardons and Paroles voted six-to-one to recommend the reduction.
Although Mr. Foster, also known as Haramia KiNassor, has not killed anyone, he was convicted of murder because a passenger in the car he was driving committed a robbery and murder.
John Coursey attributed much of the victory to Mr. Foster's own testimony and the statewide and national protest over the Texas Law of Parties, which was used to convict him. The statute permits the state to prosecute individuals based on the actions of another.
"Even the State of Texas could admit that he was not the actual murderer. That could be a turning point in some ways because Texas is considered the heart of capital punishment. However, I don't expect to see the abolishment of executions in Texas any time soon," Mr. Coursey stated.
He told The Final Call that in addition to wrongful convictions, a good reason to oppose the death penalty is because it has always been a racist institution.
"The death penalty was overturned in 1972 because of racial disparities, but the Supreme Court reinstated it in 1976. It's not just the race of the person on death row, but the person he or she is accused of murdering. Seventy-five percent of the victims are White, and if it's a Black-on-Black crime, that typically does not lead to execution, But if it's a black-on-white crime, then it does matter. That itself sends a really negative message that a White person's life is more valuable than a Black person's life," Mr. Coursey stated.
Mr. Coursey compares the Walk to the Civil Rights Movement, an era when people took the fight for justice an equality to the streets. Death Penalty opponents will have to do the same and not simply rely on politicians to argue whether it should be ended or not, he continued.
The Walk to Stop Executions was first led by activist Richard Carlburg in 2000. This year it is sponsored in part by DPF, People of Faith Working Against the Death Penalty and Amnesty International USA.
Residents of each county can participate in the demonstration by walking a 5-mile segment or attending a rally within their county, pledging three, five or 25 cents to walkers or contributing a tax-deductible donation of $24.
Whatever method preferred, Ms. Faucher said, action is necessary. "The question to consider is not whether these individuals deserve to die, but whether we are the ones that should kill them."
(For more details about the 2007 Stop the Executions Walk visit www.deathpenalty.org.)