FCNNEWSSOURCE
Muhammad school of music prepares to perform at the Gateways African American Classical Music Festival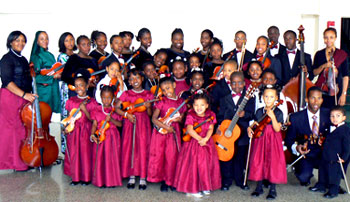 Muhammad School of Music (MSOM) concluded its 2007 Music of The Universe Summer Camp with resounding success, and is now preparing for a leap into the professional music arena performing at the Gateways African American Classical Music Festival.
MSOM hosted the 2007 Music of The Universe Summer Camp June 24-30. The youth musicians from various parts of the country traveled to Buffalo, New York for a week-long intensive music camp, which included performances, workshops and tours of historic landmarks, such as Niagara Falls, the Underground Railroad and a jam session at the historic Colored Musician's Club of Buffalo. The camp culminated with the Eighth Annual Celebration of Youth Outdoor Music Festival and the release of MSOM's latest CD recording project titled "Ball of Confusion," which features a remake of the 1970's Temptations hit song.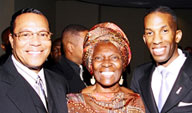 MSOM is now practicing and preparing for an upcoming performance at the Gateways African American Classical Music Festival, in Rochester, New York September 7-9.
The Gateways Music Festival meets bi-annually at the Eastman School of Music and features the best and brightest professional Black classical musicians from around the country. The brainchild of the pioneering concert is pianist Armenta Adams-Hummings–who is a childhood friend of the Honorable Minister Louis Farrakhan.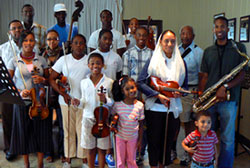 The eighth annual festival will be a power-packed weekend of chamber and symphonic orchestra concerts. The first Gateways Music Festival in 1993 featured as guest violin soloist the Honorable Minister Louis Farrakhan performing the Mendelssohn Violin Concerto with orchestra; a tremendous feat after over 40 years away from the violin.
MSOM founder and violinist, Bro. Henri L. Muhammad, joined the Gateways Music Festival in 1995 as a student in college, and has made attending and participating in the unique gathering a focal point of the MSOM curriculum. This year, the MSOM String Ensemble will be honored to deliver a feature performance and perform with the Gateways Festival Orchestra during the three-day festival.
For more information on the Gateways Music Festival, visit www.gatewaysmusicfestival.com.
For more information on Muhammad School of Music, to make a donation, inquire about lessons or products or to book a performance, call or write to: Muhammad School of Music, P.O. Box 936, Buffalo, New York 14205, (716) 881-5088, email: [email protected]