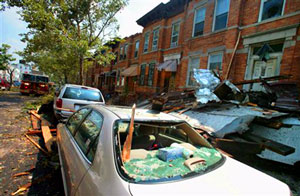 NEW YORK (FinalCall.com) – Traveling at 111 miles per hour, a twister tornado reportedly hit the borough of Brooklyn on Aug. 8, crushing cars and tearing the roofs off homes. According to an article published in The New York Times, "more than 30 families were forced from their homes."
"The National Weather Service called the storm a Category 2 tornado on the Enhanced Fujita scale," the NYT article stated.
New York City's (NYC) Office of Emergency Management (OEM) said property damage would be in the millions–possibly tens of millions–and, officials are expected to turn to the federal government for financial help.
While the tornado wreaked havoc, heavy rains also shut down the city's subway system as pumping stations became overwhelmed and storm drains backed up. OEM officials told reporters that the storm, which hit a high tide, "dumped 3.5 inches of rain" on NYC as the sun was coming up.
The executive director of New York's Metropolitan Transportation Authority (MTA), which transports millions of New Yorkers via subways, buses, and commuter trains, told Newsday that the subway's drainage system "can generally handle a maximum of 1.5 inches of rainfall per hour."
NYC Environmental Protection Commissioner Emily Lloyd said the subways "lack their own dedicated storm water pipes and instead rely on city sewers to carry away the water that infiltrates the system from storms and underground streams," according to Newsday.
"MTA officials are offering the public excuses," states Karriemah H. Muqeet of Care Unit 911, the group that has been holding "Disaster Awareness for Community Preparedness" workshops for the Local Organizing Committees (LOC). "Maybe now New Yorkers will understand not to expect the authorities to be there to help them," Ms. Muqeet told The Final Call.
However, with all the chaos, only one death so far has been blamed on the storm. A car driven by a 23-year-old Black woman became stuck beneath an underpass on the Staten Island Expressway. She was struck by another car and died from her injuries, according to officials.
"It could have been a lot worse," stated Rudolph Muhammad, a member of Care Unit 911, and the New York Millions More Movement Ministry of Health. Rain totally paralyzed the city, Mr. Muhammad said. "The Bloomberg [Mayor Michael Bloomberg] plan for evacuating eight million people in the event of a major storm such as a Category 5 Hurricane, by using the transit system, won't work," Mr. Muhammad stressed.
Ms. Muqeet agreed. "According to NYC evacuation plan, the subways are to be used; and we see from that small storm that won't work." They both told The Final Call to warn the people that "they are own their own."
"People need to have a plan," Ms. Muqeet insists.
Another New Yorker raising the alarm is Queens Councilman Leroy Comrie (D), who challenged the city officials to travel to his district where Black homeowners were being flooded each time it rained. After a storm on July 18, he said: "I would like my colleagues in government to visit with 84-year-old Daisy Walker, who watched another flood ruin years of memories, because our government has failed to address inadequate drainage systems and the cleaning of catch basins."
He also warned that insurance companies were cancelling policies in NYC communities with high water tables.
The councilman also raised concerns about the preparedness of the people in his district. "If a rainstorm could inflict this much damage, we don't have to imagine what could happen if a serious nor'easter or hurricane were to hit NYC. We only need look to the tragedy of Katrina to see what the future holds," he said.
Mr. Muhammad told The Final Call that even many of the people attending the workshops don't believe a serious storm would hit the city. Ms. Muqeet says she only teaches children and the elderly. "The children want to learn; and the elderly have experienced everything," she said.
Care Unit 911 has inflatable boats with electric pumps that must be charged, and they come with car adapters. Both Mr. Muhammad and Ms. Muqeet teach people the importance of having a family plan for emergency evacuation.
"People must learn where the local Evacuation Center is located. They need a working cell phone, extra charger, change and a calling card," Ms. Muqeet said.
"We still need a major community education process from the grassroots perspective. The next time, New York may not [just] lose only one life," Mr. Muhammad said.