FCNNEWSSOURCE
Mumia Abu-Jamal and many others:
Prisoners of Injustice
We are warned by the scriptures, the Honorable Minister Louis Farrakhan has instructed us, of circumstances when the innocent are unjustly persecuted by the rulers of the day.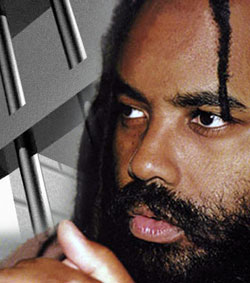 In the Book of Psalms 94:19-21, David the Psalmist asks, "Shall the throne of iniquity have fellowship with thee, which frameth mischief by a law?" and we see throughout the U.S. penal system hundreds of thousands of Black men, Latino men and Native American men who are nothing more than political prisoners of injustices inflicted on them by "the throne" in this modern time. The case of Mumia Abu-Jamal, argued recently before the U.S. Court of Appeals for the Third Circuit, is just one example. An exhaustive list of names can be compiled. We recently observed the 200th exoneration of an innocent man through DNA evidence. There have been more than 100 men proven innocent while on death row. Innocent.
Mumia Abu-Jamal has been on death row since 1982. He was convicted and sentenced to death, in what he and his supporters around the world insist was a flawed trial, marred by the racist manipulation of the jury selection process by prosecutors, a process which was permitted by an overtly hostile, racist trial and appellate judge.
"We did not come together just for Mumia. Our fight is for all political prisoners," says Pam Africa of the International Concerned Family and Friends of Mumia Abu-Jamal.
There is a long list: Imam Jamil Al-Amin (H. Rap Brown), accused of killing an Atlanta sheriff's deputy; jailed Native American activist Leonard Peltier, who sits in Leavenworth Prison for his involvement in a shootout in which an FBI agent was killed; former Black Panther Party member Geronimo Pratt was exonerated and freed, but we lost Shaka Sankofa (Gary Graham), executed in Texas; and Gary Tyler in the Louisiana State Penitentiary at Angola.
Then there is California inmate Ruchell Magee, who, on August 7, 1970, was the "jailhouse lawyer" in the Marin County California courtroom, testifying for another inmate, when 17-year-old Jonathan Jackson brandished a shotgun and kidnapped the judge, two prosecutors, and three jurors as hostages in a "jailbreak plan" to free his jailed brother, George Jackson.
Like Mumia Abu-Jamal, Mr. Magee's case bears witness to the scripture: Framed "by mischief of law."
An internationally known, prize-winning journalist and activist, Mr. Abu-Jamal had become well known, prior to his arrest in 1981, as a crusading radio reporter who exposed racism and brutality among the Philadelphia Police Department. That department has been plagued by scandals accusing police of widespread misconduct, corruption, and evidence planting, charges similar to those which came to light in Mr. Abu-Jamal's case.
The intense level of politicization of this case, and the venom with which police groups have attacked Mr. Abu-Jamal, suggests that they are after vengeance, rather than justice.
Mr. Magee, on the other hand, was known only among other inmates who valued his skill in court hearings as a "jailhouse lawyer." Although he was not a part of Mr. Jackson's jailbreak plan, Mr. Magee decided, spontaneously, to join. He has spent more than 41 years in California prisons for what were originally petty crimes, aggravated, however, by his persistent complaints that he remains unjustly imprisoned.
Mr. Magee testified that he decided his chances would be better attempting to break out of jail, where he had received no justice, with an armed man he had never seen before, than they would be if he remained in the clutches of those who had consistently denied him justice and a fair hearing. He said his choice was easy: Follow freedom.
Whether we are inside or outside the "Criminal Just-Us," or "Criminal Injustice System," we remain subject to an unjust people. The U.S. jails are bulging; more than 2 million inmates–disproportionately Black males–fill the American jails. This Criminal Industrial Complex, which profits from the forced labor for pennies-on-the-dollar of inmates, is also very adept at blaming the victim for the crime.
Nelson Mandela is a case in point. Mr. Mandela was labeled a terrorist and convicted in an apartheid court of law. He was imprisoned for 27 years before being pardoned and released. When all the people of his country were permitted to vote, Mr. Mandela was elected President.
Like the apartheid government in South Africa, we have seen that the U.S. government is well able to expand the law for whom it pleases–its "White"-collar criminals. For them, there are pardons and judicial "golden parachutes." And this country can certainly straiten the law for whom it pleases, the Black, the poor, the dispossessed.
We stand in solidarity with Mumia Abu-Jamal, Jamil El-Amin, Leonard Peltier, Ruchell Magee, The Cuban 5–all of America's political prisoners. It is just a matter of time before we celebrate their release and their full and complete exoneration.