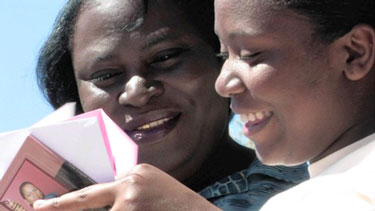 When Bryan Muhammad, co-chair of the Ft. Worth Millions More Movement, heard the story of how Shaquanda Cotton, a 14-year-old Black girl in Paris, Texas., was being tried for pushing a teacher's aide while a young White girl had burned down her home and only received probation, he knew the group had to step in.
"My friend, Darwin Campbell, who writes for the African American News and Issues newspaper, knew about the work we were doing in the Ft. Worth area. He told me that I should check out the situation in Paris," Mr. Muhammad told The Final Call.
"I called the family the day Shaquanda was sentenced. They were in shock. No one thought she would have to do time."
From that first phone call last year until the group went with her family when she was released on Mar. 31 from detention, the Millions More Movement was an integral part of securing her release.
The Millions More Movement was established by the Honorable Minister Louis Farrakhan for unity among Black people and organizations in 2005 gearing up towards the 10th Anniversary Commemoration of the Million Man March.
"We call for unity with our Brown, Red, disenfranchised and oppressed Brothers and Sisters in America, Caribbean, Central and South America, Asia and all over the world. The Power of One is the synthesis of men, women, youth and elders working in unity for our total liberation," explained Minister Farrakhan.
That foundation of organization and service motivated the Millions More Movement to stay involved with this case.
"I am very thankful for the work the Millions More Movement did. They worked with all of the other organizations. It was their unity that made this happen," explained Creola Cotton, Shaquanda's mother, to The Final Call.
The push to get Shaquanda released has encouraged others to speak out about what has happened to the children in Paris, Texas.
"Shaquanda's not the only one who's been railroaded to prison in Paris, Texas. The Millions More Movement is sponsoring a Statewide Town Hall Meeting, April 21. We're bringing all of the partners together. We're calling on our best and brightest educators to look at this system. Why are so many of our children suspended, expelled, don't graduate and are put on drugs," said Mr. Muhammad.
"We're inviting lawyers to come and interview parents with cases worse than Shaquanda's. We are suing the school system. We are filing a complaint to have the District Attorney removed. We want the judge for this case disbarred and removed."
Texas State Rep. Harold Dutton (D-Houston) has also stepped in to investigate the matter. He explained to BlackAmericaweb.com, "How many other Shaquandas are there in the system? I also want to look at what's going on in Paris, Texas," he said. "We keep hearing stories. And most often, they involve people who are poor and live in small towns."
Rep. Dutton is calling for a complete review and overhaul of the system for Texas juvenile justice. Shaquanda probably is the first among hundreds who will be released as cases are reviewed, Texas officials have said, reported BlackAmericaWeb.com
What happened to Shaquanda Cotton?
Shaquanda Cotton was sentenced by Judge Chuck Superville in March 2006, to seven years at the Texas Youth Commission Facility for 'assault on a public servant.' Three months earlier, the same judge sentenced a 14-year-old White girl, convicted of arson, to probation.
"I have no prior arrest record and the hall monitor–a 58-year-old teacher's aide–was not seriously injured," explained Shaquanda Cotton on her website www.freeshaquandacotton.com
That seven year sentence infuriated Mr. Muhammad.
"They've destroyed our Black men; they've destroyed our young Black men. Black women are filling the jails. Now they're coming after our young Black girls. I wasn't going to just sit by and watch this happen."
For the next year, Mr. Muhammad dedicated his time and energy, driving two and a half hours from Ft. Worth to Paris, to strategize with members of the community to help free Shaquanda.
"We organized a long term strategy to get Shaquanda released. We had weekends of absence based on what Minister Farrakhan told us to do with the Million Man March. No school on Friday, no sport and play and no shopping."
That strategy included working with the New Black Panther Party, the Parrant County Local Organizing Committee, the state NAACP and the Concerned Citizens for Racial Equality.
It was a slow start, but the impact grew. The weekends of absence continued and later came national attention to the problem with a story published Mar. 12 in The Chicago Tribune–and more protests.
"The national attention woke up more of the local people. We had a protest Mar. 20, which brought close to 800 people to the streets. Things were starting to blow up locally. We had so many young people there who were tired of the racism. They lived this treatment everyday and wanted it to stop," said Mr. Muhammad.
That national attention also reached the desk of Rep. Dutton (D-Houston) on Mar. 28, when someone emailed him the story featured in The Chicago Tribune. Rep. Dutton is the chairman of the Texas Legislature's Juvenile Justice Committee.
"Shaquanda Cotton is a poster child for every thing that is wrong with the Texas Youth Commission," Rep. Dutton told BlackAmericaWeb.com. "This never should have happened and no one has explained to me why it did happen."
According to BlackAmericaWeb.com, after Rep. Dutton learned about Shaquanda, he said he immediately called Jay Kimbrough, who has been appointed as conservator for the Texas Youth Commission. Mr. Kimbrough, he said, is reviewing several sentences handed down or even extended for Texas youths.
Shaquanda Comes Home
"I'm so thankful people took an interest in my child and to put the information out there. It spread so wide. People have called and they are so kind. I never imagined this would happen," Ms. Cotton told The Final Call.
On Mar. 31, a caravan of cars went to Brownwood where the Texas Youth Facility is located. Shaquanda Cotton was released that morning and escorted from jail by the Nation of Islam's F.O.I. (Fruit of Islam) from the Dallas/Forth Worth area.
"She's home now and she's not going back to that school; she'll be home-schooled. My advice to other parents is to not give up on your child. We have to keep fighting. If we hadn't continued to fight, she would still be there," said Ms. Cotton.
"The combination of everybody was what it took to do this. We have to build unity."