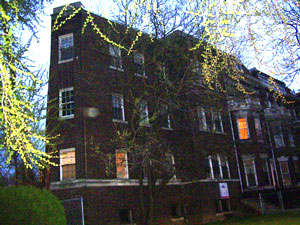 WASHINGTON, D.C. (FinalCall.com) – When the residents of the 12 unit building at 16th and Monroe Street NW got the letter that the owner was selling the building, they were frightened with the prospects of being homeless.
"My family was like, where are we going to go? This has been our home for 10 years. We would have to move to Maryland like so many other people," explained Mario Lopez to The Final Call.
More and more residents of the nation's capital are faced with rising rents and out-of-reach home costs. The answer for many facing that problem has been to move to the suburbs where in Prince George's County, Blacks are finding their middle class life.
"With its relatively affordable housing prices and middle-income character, Prince George's County serves as a pathway to the middle class for large numbers of lower-income, working minorities from Washington, D.C. and Montgomery County," explained the Brookings Institute in its recently released report entitled "A Pathway to the Middle Class: Migration and Demographic Change in Prince George's County."
But the residents at 3323 16th Street did not want to move.
This is an international community that is being changed with the influx of anyone who could afford the rising rates to live there. Rent in that area ranges from $1,200 to $2,000. Those prices were impossible for the residents, some of whom came from El Salvador, Guadalupe, Guyana and Mexico. They were single parents, an elderly woman on a fixed income and others working from paycheck to paycheck. No one could afford to just pack up and go.
When the letters arrived, the tenants' rent in their building ranged from $290 to $500 because of rent control–they could never find those prices anywhere else in the city.
They knew the building was for sale, but when they read the letter again, they realized that it told them that the tenants had a first right to organize and purchase the building.
"We were shocked when we got the letter, but I thought we should buy the building; we had never organized as tenants before, but now was the best time to start," said Kofi Owusu, who had lived in the building for eight years.
"I talked to the other tenants and we decided that we could do this. So we went to work to form a tenants association and buy the building," he said.
The Prince George's County was ready to help the newly formed tenants association.
"We provide technical assistance and financial assistance to help residents purchase their building and convert it into a cooperative or condominium," explained Bob Simon, contract and loan specialist for the D.C. Department of Housing and Community Development.
"More and more buildings are being sold now than they were a couple of years ago. This is a sellers market. If the tenants really want to do it and can come together as a group, it's not hard. They have to be surrounded by the proper legal and financial support. We've helped hundreds of families purchase their building over the last 20 years," he told The Final Call.
That was 2002 when the 16th and Monroe Street Tenants Association formed to purchase their building. Today, they are the proud owners of the property where they live and now regulate the Nelrod International Cooperative, Inc.
"We received a 40-year loan with 1 percent interest. It was a great deal. Many of us would have been homeless or been like so many others who have to move to Maryland when they can no longer afford to stay in the city," said Mr. Owusu.
"Now we're looking for a developer to help us renovate the building. We're committed to keeping the rent affordable for the tenants. We've raised the rent $200 to help us meet our expenses, but we kept Miss Ethel's rent, the 80-year-old mother of the house who had been in the building for 35 years, at $383 because she's a senior citizen."
They can do that because they own the building.
"We want a developer that will work with us to keep this building reasonable. Many want to help us, but they charge so much, we would have to dramatically raise the rent to afford them. We don't want to do that. This building is tenant run. It's fun raising hell with the landlord, but when you become the landlord, it's hard work," said Mr. Owusu, who is now president of the co-op.
The road to home ownership wasn't easy, but they did it.
"I was the last one to sign on," said Jean-Phillipe Bordelais to The Final Call. Mr. Bordelais has lived in the building for 16 years. "I didn't think it could happen; I didn't think the tenants would get together."
Mr. Owusu was hesitant at first too. "We were ignorant and afraid when we got the letter. But we worked together. Miss Ethel made a call and the rest is history. We're now in a position to help other tenants purchase their building."