By Michael 2X
and Victor Muhammad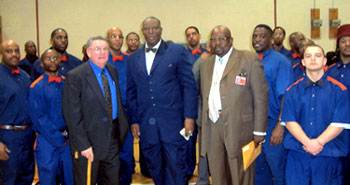 In conjunction with Saviours' Day 2007 in Detroit, a visit was scheduled for Minister Abdullah Muhammad, National Prison Reform Minister, at Ryan Correctional Facility and Mound Correctional Facility. The turnout for the visitation was the largest that either facility has ever had for any religious programming.
At Ryan Correctional Facility, over 550 inmates had signed up for the program while at Mound Correctional Facility, over 450 inmates signed to attend. Due to capacity restraints, only 250 inmates at each facility were allowed to attend these momentous events. According to Chaplain Green of Ryan and Chaplain White of Mound, the visitation and program was a huge success in lifting the spirits of not only the Nation of Islam Study Group but instrumental in uniting other religious groups inside the facility. The Moorish Science Temple, Al Islam, Christian, Melanics and our Latino Brothers were among those who attended the address to the general population.
Abdul Rahman Muhammad of Muhammad's Mosque No. 1 said, "You have to begin to think in terms of coming home and being a redeemer of your family; of your community. The life of crime is over."
After a musical selection from Full Clip, Red Funk and Sankofa, Brothers Lionel Muhammad, Broderick Muhammad and Leonard Muhammad, all who are part of National Prison Reform Minister Abdullah Muhammad's staff from Chicago, shared the darkness of their life prior to being exposed to the light of the Teachings of the Most Honorable Elijah Muhammad, which mirrored the lives of those in the audience.
The final speaker was Minister Abdullah, who shared with the audience the same experiences of his past, then showed how he was able to see for himself the Light and Truth in the Teachings of the Most Honorable Elijah Muhammad.
"Jesus practiced the religion of God. Prophet Muhammad (PBUH) and all of the other prophets practiced the religion of God, which is a religion of oneness; of unity. How can you claim to be one with the Creator and be divided from His Creation?" he said.
Dave Burnett, Michigan Department of Correction Special Activities Coordinator for Religious Programming, attended the presentation by Min. Muhammad at Ryan Correctional Facility and stated that he really enjoyed Min. Muhammad's lecture.
"Minister Abdullah was able to make an immediate connection with the men, by providing information regarding his own past. …By making that connection, the men trusted and engaged with what Minister Abdullah had to say and listened attentively to every word he had to say. The speech was definitely not a 'rah, rah' lecture–it was a strong, meaningful message that I feel should be communicated to all inmates in the Michigan Department of Corrections. I support having Minister Abdullah Muhammad come to speak in more facilities in the future," Mr. Burnett said.
Bro. Leonard said of the event, "The spirit was high and we received a real warm welcome from all those that were in attendance. In hindsight, I could actually say that it was the same spirit that you feel when you go to Saviours' Day and walk among the Believers; that same spirit was among those Brothers and you could tell that they worked real hard to put that program together and make it a success. I believe that Allah rewarded them for their labor."
One brother, Carlos X Ray stated, "I have never seen anything this powerful or beautiful in my 14 years of being in prison."
"We need to have more unified programs of this magnitude more often," said Philpot-Bey.
As the program concluded, the power of unity intensified. The men at both correctional facilities are thankful to Allah (God) for the Honorable Minister Louis Farrakhan and pray for his health and continued success.
LONG LIVE MUHAMMAD!!!