FCNNEWSSOURCE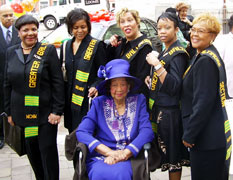 WASHINGTON, D.C. (FinalCall.com) – It was a who's who of Black women that came out to celebrate the National Council of Negro Women's president emeritus, Dr. Dorothy Height's 95th birth anniversary on March 25, as well as the 50 years of leadership she has provided for the National Council of Negro Women (NCNW).
Joining Ms. Height in the photo are members of the Greater Baltimore Chapter of the National Council of Negro Women, while and many other special guests attended, among whom were Essence Magazine's Editorial Director Susan Taylor; former Secretary of Labor Dr. Alexis Herman; former First Lady of D.C. Cora Masters Barry; and from the Nation of Islam, Chief-of-Protocol Claudette Marie Muhammad, National Spokesman Minister Jamil Muhammad and Mid-Atlantic Regional Minister Abdul Khadir Muhammad.
According to NCNW's website, the Ninth Annual Uncommon Height Gala will be held on April 19 at the Hilton Washington Hotel, located at 1919 Connecticut Avenue NW.
Proceeds from the Gala strengthen NCNW's capacity to meet critical needs and to empower women. For more information, visit www.ncnw.org.