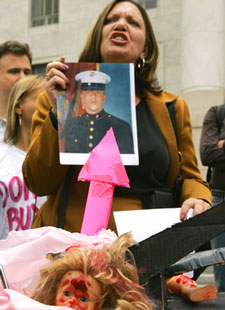 WASHINGTON (FinalCall.com) – If it seems like Americans of every description are becoming more and more active in their opposition to the Iraq war, it's probably because they are.
The opposition to the Bush administration's war policies and the apparent complicity of top Democrats with the policy, reached tidal wave proportions on Mar. 17, the fourth anniversary of the U.S. attack and invasion of Iraq.
An anniversary march on the Pentagon was preceded with two weeks of protests here and around the country: An "encampment" on the National Mall; the peaceful "occupation" of Congressional offices in Washington and in home districts; and dozens of arrests, most targeting Democratic Party officeholders, demanding that they simply end the war and cut off its funding.
"I'm here because we have got to stop the war. We have to continue to put pressure. The Democrats in my opinion have already reneged on their promises. I don't think that we can trust them," Sue Kelly from Richmond Va., a part of the Troops Out Now Coalition and a member of a group encamped on the National Mall, told The Final Call.
"We can't just make an assumption because the Congress has changed to a majority of Democrats that will bring a war to an end, because history shows us that's not the way it works. The pressure from the people has to continue.
"I come from the Vietnam War era–I know what an effect the people had, who came out in demonstrations and actions on bringing that war to a close. That's what this is about. It has to be the people demanding that the government; that the Congress stops funding and that we get out of Iraq," Ms. Kelly said.
In addition to tens of thousands of anti-war protestors, a diverse group of religious leaders organized a "Christian Peace Witness for Iraq," which included an evening worship service followed by a march and candlelight vigil at the White House.
"As Christian leaders, we cannot sit back and watch as the bloodshed in Iraq soon begins a fifth year," said the Rev. Dr. Peter Nord, Executive Presbyter of the Presbytery of Baltimore, in a statement from the Christian Peace Witness for Iraq. "The time has come to confess our mistakes and wrongdoing and withdraw our troops. The Jesus we follow prays for peace and so do we. I am troubled that our Commander-in-Chief neither shares this prayer nor listens to his people."
Protestors, sometimes wearing pink, disrupted committee hearings, and staged sit-ins in the offices of Members of Congress and the Senate. The Capitol Hill offices of presidential candidates Senators John McCain (R-Ariz.) and Hilary Rodham Clinton (D-N.Y.) were targeted.
A sit-in was held in the Chicago office of Rep. Rahm Emmanuel (D-Ill.) Mar. 8, while another 20 demonstrators gathered outside the San Francisco office of House Speaker Nancy Pelosi (D-Calif.) Mar. 7.
On one day, three separate demonstrations were held in statewide offices of Sen. Barbara Mikulski (D-Md.) Another demonstration was held in the office of Sen. Richard Durbin (D-Ill.), and the office of Rep. Christopher Van Hollen (D-Md.) was occupied, as were the offices of Rep. Marcy Kaptur (D-Ohio) and David Obey (D-Wis.).
During the occupations, the protestors–who number from a handful to dozens–sit, stand, perform skits, read the names of U.S. personnel and of Iraqi civilians killed, read letters from U.S. troops sent to family members, ring bells, sing, pray, chant, sometimes remaining for hours. Sometimes they leave on their own, other times they leave on police orders, and at other times they are arrested. Days before the massive Mar. 17 Pentagon march, more than 150 had already been arrested.
"I think what drives (people to be arrested) is the horror and sorrow that we feel at the deaths, not only of our best U.S. men and women, but so many Iraqis as well," said Ms. Kelly.
"It's not an answer for them and it's a horrible situation for us. We're spending $100 million a day and there's so many needs in this country. For social needs, for education, for everything in this country. So many things are needed, and we're putting all of this money into the Pentagon, into the war machine," she said.
The March 17 anti-war, Pentagon protest-march led by the International ANSWER Coalition, was also joined in the protest by the country's largest impeachment group ImpeachBush.org, which has more than 850,000 signers and was founded by Ramsey Clark, former U.S. Attorney General.
"Impeachment of government officials for criminal acts and betrayal of the public trust is not a politically partisan matter," Constitutional rights lawyer Mara Verheyden-Hilliard said in a statement. "The war in Iraq was based on the administration lying to Congress and to the people. It is a war of aggression. The message of impeachment is spreading throughout the United States. Although no member of Congress has introduced articles of impeachment, it is becoming an increasingly popular demand at the grassroots," she said.