JABRIL.MUHAMMAD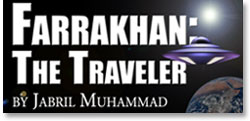 By now it's known that the Honorable Minister Louis Farrakhan has been released from the hospital. Those of us who love and admire him are filled with gratitude to Almighty God Allah for this wondrous blessing. This was expressed lovingly and officially in these words which appeared in The Final Call:
"'He was in the hospital for five weeks,' explained Min. Ishmael, national assistant to Minister Farrakhan, who moderated the web cast. 'I'm happy to announce to the Nation of the Islam and all of the wonderful people who prayed for him, that he was released and is out of the hospital, and at home,' he shared.
"In addition to the care from his doctors, Minister Farrakhan was under the constant and continued care from his daughter and nurse, Fatima Farrakhan Muhammad, who had been by her father's side the entire time.
"'The Minister wants to thank all those who prayed for his recovery and healing. Let us continue to keep the Minister in our prayers for his complete recovery,' Sister Fatima told The Final Call."
These words are not only significant to members of the Nation of Islam and those who love Minister Farrakhan, but to those who are not close to him, but who deeply admire him.
Then there are those who pray for that which is not good to come to him. These same words are also significant to them.
As I write these words, I am thinking of words I wrote of Minister Farrakhan back in 1993 at the start of a chapter of a book, titled: This Is The One. It's a chapter that is composed of a little over 67,000 words, which begins:
"This book is about a man. A Black man. A man often called the most powerful Black man in America.
"Loved intensely by a growing minority, hated fiercely by a decreasing majority, understood by some, misjudged by most, he is the type of man who evokes the greatest interest and stirs the deepest emotions. What he says and does forces men to think, to move, to take a stand. He is a man about whom none can be neutral.
"At present, most people know of him through America's mass media. On the whole, he has been so grotesquely presented to the public by the media, that often there is little resemblance between the real man and what has been spoken and written about him. Despite this, the impact of his presence and work is felt in every home in America. The effect of his being has gone around the globe. Never has it been so vital for so many to get acquainted with one man, as it is today … and the hour grows late.
"We are in a unique situation. The wise know it. The rest feel it. The wise know the whys. The rest guess. We are on the threshold of a brand new world and on the brink of a catastrophic holocaust. The events of today bring to mind words written long ago in the Bible. Hundreds of centuries ago it was written that 'there shall be a time of trouble, such as never was since there was a nation even to that same time . . . .' (Daniel 12:1.) You, your family, your friends, your enemies and I live in that time of trouble at this very moment.
"Everyone does not see the problems of this unique situation in the same way. Widespread is the disagreement over how to deal with the current crisis. Everybody is acting and reacting according to what they are and how they see. Nevertheless, everyone has an interest in what is going on and the outcome.
"Some look at this world in the light of the scriptures. Most don't. They go by their 'secular' education and their experience, and regard as irrelevant the prophetic words of the scriptures. Still others go by superstitions, fears, little knowledge, and what they call 'common sense.' In any case, most can agree that we live in the most dangerous time in the history of life on this planet.
"With these words the first chapter of this book opened a little over 20 years ago. I wrote them in 1968. A few months earlier, in October 1967, this book was born, in a sense, and in part, as a consequence of a conversation between the Honorable Elijah Muhammad and myself. These words were written with reference to him. A few years later, those words were published as part of the first nine chapters of this book, when it went to press in December, 1970.
"Twenty-two years later, with but few modifications, these same words apply to the Honorable Minister Louis Farrakhan. It is the implications of this application that this chapter is about. This is why I've named this chapter: 'Again: This Is The One.'
"I am not making that applying those words to him out of whim, or out of some cheap desire to heap worthless praise on my Brother; even though he does deserve genuine honor for the tremendous work Almighty God Allah has blessed him to perform, during the past 15 years and five months.
"A recent event that demonstrates that those words fit Minister Farrakhan occurred on the 18th of October, 1992, when nearly 60,000 people went to the Georgia Dome, in Atlanta, Georgia. They went to see this Black man, with $10.00 each to help defray the expenses involved. They did not go to hear a man sing a song. They did not go to watch a man dance a dance. They did not go to be entertained, in the usual sense of that word. Instead, they went with the intention of listening to a Black man speak to the heart of their concerns.
"Another factor which gives an idea of the magnitude of this event–and of the significance of this Black man–is the fact that the opening game of the world series took place, about the same time Minister Farrakhan delivered his address; which celebrated the birth and work of the Honorable Elijah Muhammad. Moreover, more people went to hear him speak than were in attendance at the ball game!
"This event is all the more remarkable, when one reflects over the fact that since 1984, Minister Farrakhan has been the subject of the most intense slander campaign that any Black man in America–possibly anytime, anywhere–has ever experienced. (His teacher would be the only exception to this.) He did not wilt; fade away; run away or otherwise evaporate. He became stronger; and bolder in every respect; and grew more powerful!"
***
I ended my last article with: "Be it the will of Allah we'll see how and why this holding back of the knowledge of who Jesus and his mother served as signs of and serves as a test and the relevance of this subject to our very existence. Then, if it pleases Allah, I'd like to move into the roots of Minister Farrakhan's heart's desire to help us into the state of 'unity.'"
I cannot fit my comments on the above paragraph into this article. So I now intend to accomplish it partly through U.S. Representative Keith Ellison's (D-Minnesota) use of these words: "fight and argue and wrangle," as they appeared in this newspaper.