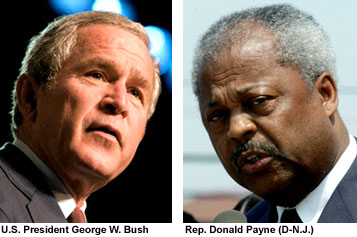 WASHINGTON (FinalCall.com) – As world conflicts go, this one–even though it involves air strikes in Africa by the U.S. military–has passed by relatively un-noticed. And yet, the U.S. bombed and escalated a military invasion in Somalia, in the name of fighting terrorism, without setting off very much political or diplomatic alarm in this country.
The Pentagon confirmed Jan. 12, that U.S. Forces began an "on-going operation of air strikes in southern Somalia Jan 8, and that the attacks are continuing," according to Citizen Journal Nepal cjnepal.org. The U.S. attack was meant to target so-called "Islamic militants." Somalia's president had earlier said that the United States was pursuing suspects in the 1998 U.S. Embassy bombings.
The attack wreaked havoc. Hundreds of families fled their homes to Jubba provinces, in southern Somalia, according to AllAfrica.com. As many as 70 people and several hundred of their livestock were killed in the joint American and Ethiopian air bombardment, which missed its al-Qaeda targets, but killed dozens of nomadic herdsmen, according to the British aid agency Oxfam. The U.S. disputed the numbers killed and that they were civilians.
The attack against Ras Kamboni–a remote island near the Kenyan border–represents the first American involvement in Somalia since the 1993 operation that resulted in the deaths of 18 American soldiers.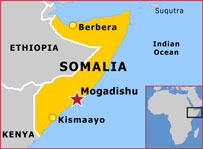 U.S. forces entered Somalia last December 24 when Ethiopia launched an attack against Somalia's Islamic Courts Movement. U.S. officials told Associated Press that U.S. special forces are in Somalia hunting al-Qaeda fighters and providing military advice to Ethiopian and Somali forces. Somalia, a country of 7 million, has been consumed by civil war since clan warlords toppled Mohamed Siad Barre in 1991.
"I think the policy is wrong. I think that to go in and bomb that country with no authority is wrong," Rep. Donald Payne (D-N.J.), chair of the Africa Subcommittee of the House International Relations Committee told The Final Call after the Congressional Black Caucus meeting Jan. 17. "And I believe that we have 450,000 people killed in Darfur, and we won't even support the UN going in there. And here we have so-called, some suspected al-Qaeda operatives. None of them even Somali.
"And once again, (this) just shows a misguided policy in Africa in general, and the world in particular," said Rep. Payne, who condemned the Ethiopian invasion, late last December.
The bombing sparked about 200 Somali Canadians and supporters, who demonstrated against American involvement in Somalia Jan. 20 at the U.S. consulate in downtown Toronto.
Protestors waved signs reading "Stop Bush's war on terror," "U.S. stop proxy war," and "Troops out of Somalia now."
Rep. Payne said the U.S. anti-Islamic saber-rattling is wrong. "I think the United States has failed to really have any policy toward Somalia and therefore, when the transitional government had come up with a settlement, they begged the U.S. to be engaged the last three or four years, and they just refused to.
"Then, when the people of Somalia–the Islamic Courts—decided that enough was enough. They went out and got law and order. Stopped the hijacking of boats. Stopped piracy. Opened the airport up. Opened up schools. People could walk around. Then the United States decided to back the warlords who had been in control the last 10 years," when the country was lawless and ungovernable, said Mr. Payne.
"This government has been in power for two months. So, how could they be held responsible? If they wanted these al-Qaeda people they should have gone in there 10 years ago or five years ago when they found out they were there.
"And also, they claim there is an al-Qaeda training camp that's been there for four or five years. Well, if it was there, it was supported by the people who were running Somalia, who were the warlords. So, once again, why then when this new (Islamic Courts) government takes over you decide all of a sudden to have a Somali-policy, and invite another country to invade Somalia?"
"This is a crisis, the U.S. is using C-130 gun-ships to fire on Somalis who are resisting U.S. hegemony in Africa. This is as important an issue as the Middle East. The whole of the peace movement needs to focus on Africa–speaking out against military occupation of Africa by the U.S.," said anti-war activist Larry Holmes, with the Troops Out Now Coalition in an interview.
Black activists need to focus on this issue. "It's real and we better do something about it!"
Lawrence Hamm of the Newark-based Peoples Organization for Progress, co-chair of the NJ Millions More Movement and convener of the Jan 20th People's Peace Conference in Newark, NJ agreed. "I think the bombing of Somalia is an extension of what is going on in Iraq–diplomacy was never an American strong suit in Africa," he said.
World-wide reaction was muted. Ban Ki-Moon, secretary-general of the United Nations, expressed concern that the unilateral actions represented a "new dimension" that could escalate hostilities.
Iran's Foreign Ministry condemned the U.S. attacks. "The U.S. air strikes on villages and refugees in south Somalia flouts international law," the Foreign Ministry said in a statement according to MEHRNEWS.com.
The new Somali government is now working with neo-conservative policy analysts in Washington to press for ongoing support from the U.S. government, according to OneWorld.net.
Shortly after the transitional government overthrew the Union of Islamic Courts, the Bush administration made an initial down payment of $40 million in revitalization assistance for Somalia, One World reported. About $16 million was earmarked for humanitarian assistance, $14 million put toward a multinational peacekeeping force whose deployment is still pending, and $10 million was allocated for development aid.
Since late December, Oxfam estimates violence in Somalia has forced an estimated 70,000 people from their homes, and has exacerbated an already dire humanitarian situation. Last year, Somalia was hit first by severe drought and then the worst flooding in 50 years, leaving some 400,000 people homeless.
(Saeed Shabazz contributed to this article)