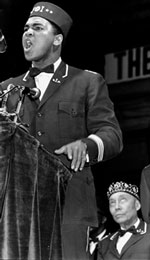 WASHINGTON (FinalCall.com) – History now remembers Muhammad Ali, the living legend, with honor.
Mr. Ali celebrated his 65th birth anniversary Jan. 17 at Arizona State University. The iconic former heavyweight champion joined comedian Billy Crystal on stage and received a minute-long standing ovation from the crowd.
Today, Mr. Ali is much beloved.
"He's been a truly great friend to me and a great friend to the world," Mr. Crystal said. "Please join me in singing happy birthday to the greatest senior citizen of all time." The 2,000 people who came to see Crystal's one-man show, "700 Sundays," chanted "Ali! Ali! Ali!"
His birth anniversary was the occasion for the announcement of a Muhammad Ali snack-food line. The snacks include fruit crumbles, crunchy mixes and flavored crisps and are given boxing-related names such as Rumble, Shuffle and Jabs. The flavors include "Fruit Fight," "Thrill-A-Dill-A" and "Slammin' Salsa." They are shaped like boxing paraphernalia, and they went on sale at Georgia Tech, Texas A&M, the University of Pennsylvania, Ohio State and Yale Universities.
But there was a time when race-haters, segregationists and Muslim-haters, conspired to stymie the career and popularity of Heavyweight Boxing Champion Muhammad Ali, the "Greatest of all Time." Mr. Ali was able to persevere not only because he was guided personally by the Most Honorable Elijah Muhammad, but because he was a "citizen" of the Nation of Islam in Chicago, and he was a member of the Fruit of Islam (F.O.I.).
Mr. Ali was prepared, and he became a "Model Champion." Then, with the drama of the Vietnam War and Black resistance to fighting in it dominating national attention, he literally became a cultural icon when he refused to be drafted into the U.S. Army.
Before his February 1964 fight against Charles "Sonny" Liston, in which Mr. Ali—then known as Cassius Clay—first won the Heavyweight Boxing Championship, Muslims had become familiar members of his entourage. Brother Malcolm X was seen at the Clay training camp, and Bro. Captain Sam—now known as Min. Abdul Rahman Muhammad, of Atlanta–had already become the Champ's bodyguard and companion.
Mr. Ali was immersed in the teaching of the Hon. Elijah Muhammad and the Nation of Islam. As Heavyweight Champ, he confounded the hostile reporters and sports figures who surrounded him, and he won the hearts of the public, and the hatred of America's authorities.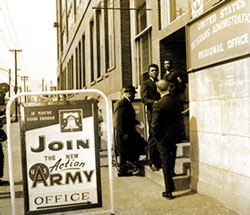 His Selective Service medical records were re-opened. Although he had been disqualified, "4-F" Mr. Ali was re-classified "1-A"—draft-eligible—by officials angry at him for becoming a Muslim. "The Viet Cong never called me a n—-r," he said, declaring that he was a conscientious objector and that he would not serve in the U.S. military.
From March 22, 1967 when he was convicted for refusing military induction, until Oct. 26, 1970, when the U.S. Supreme Court overturned his conviction, Mr. Ali was stripped of his championship, his passport, and was unable to get a license to box, or earn a living. He was being sanctioned during the athletic prime of his career.
During that period he continued to speak out around the country as a Muslim Minister and in opposition to the war. He was a role model and magnet for young men uncertain about whether or not to fight in Vietnam.
His manner, and his "being" positively reflected the Nation of Islam. He met, courted and married a sister who had grown up in the Nation. His training camp always featured the cooking of Sister Lana Shabazz, one of Mr. Muhammad's former cooks.
His courage and his commitment to the principles taught by the Hon. Elijah Muhammad won, for Mr. Ali, the unflinching loyalty of people all around the world. Even when he began his boxing comeback, when he lost a unanimous decision to Heavyweight Champion Joe Frazier in his first attempt to regain the crown, Mr. Ali was always known affectionately as the "People's Champion."
As a Nation of Islam Minister, Mr. Ali was frequently assigned to represent Mr. Muhammad overseas. The Muslim, "Champion of Conscience," who won back his title in the ring from Champion George Foreman in the thrilling 1974 "Rumble in the Jungle," was popular throughout Africa, the Caribbean and the Islamic world.
In December 1974, Mr. Ali was a distinguished member of a Nation of Islam delegation on a month-long tour of Jamaica. The delegation was led by Min. James Muhammad, the younger brother of the Hon. Elijah Muhammad, which included the Hon. Min. Louis Farrakhan and other N.O.I. officials, all of whom were guests of Jamaican Prime Minister Michael Manley.
Now, fighting the effects of advanced Parkinson's Disease, Mr. Ali continues to receive international recognition, even from those who scorned him when he first became a Muslim.
Muhammad Ali was chosen "Sportsman of the Century" by Sports Illustrated. He was named "Fighter of the Year" by Ring magazine, more times than any other athlete. In 2005, he was awarded the Presidential Medal of Freedom.