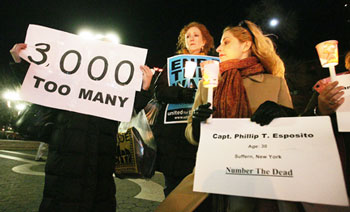 NEW YORK (FinalCall.com) – More than 100 anti-war activists from Brooklyn, New York attended a New Year's Day vigil organized by Brooklyn Parents for Peace to protest the death of the 3,000th soldier in Iraq, part of President George W. Bush's global war on terror.
A soldier killed by a roadside bomb in Baghdad on December 30th was the 3,000th American to die in Iraq since the war began in 2003.
In Jacksonville, Fla. 32 activists held lit candles by the St. Johns River. In Fresno, Calif., 150 people attended a vigil and displayed a 60-foot-long banner with 3,000 crosses.
A man approached the 10 people in Dunedin, Fla. during their candlelight vigil with tears in his eyes, saying, "I just want to thank you for being here. My son is in Iraq. He was shot and is in the hospital."
The above stories are part of the American Friends Services Committee (AFSC) website, "Not One More Death, Not One More Dollar" at www.afsc.org.
AFSC, a Quaker peace and social justice organization and United for Peace and Justice (UFPJ) one of the main anti-war coalitions, put out a call for anti-war activists to stage rallies across the nation on New Year's day to mourn American and Iraqi casualties in the war.
Judith LeBlanc, co-chairperson of UFPJ, said in a press release: "The loss of U.S. and Iraqi lives in this immoral war and occupation is immeasurable. Not one more Iraqi or U.S. soldier should be killed; not one more U.S. dollar should be spent sustaining war and occupation. Instead of letting Bush increase troop levels in Iraq, Congress should fund the speedy departure of all troops out of Iraq and an Iraqi-led reconstruction of their country."
"Three thousand dead! So who's counting?" asked Cindy Sheehan, the mother of Army Spc. Casey Sheehan, who was killed in Iraq in 2004.
"Three thousand dead. I can virtually guarantee who is not counting: Bloody George, who readily admits that he gets a good night's sleep every night," writes Ms. Sheehan in an article published on www.truthout.org.
According to Lawrence Hamm, co-chairman of the New Jersey Millions More Movement and founder of Peoples Organization for Progress (POP): "Bush seems bent on opening up the gates of hell."
The fact that 3,000 soldiers have died in Iraq is a tragedy, Mr. Hamm laments. Not even the first life should have been lost. "The terrible part of this is even after the news of the 3,000 dead, the president announces he is going to increase the number of soldiers in Iraq," said Mr. Hamm. It is clear that he said, the American people are going to have to stop this war.
Mr. Hamm's thoughts were shared by one of the 60 grandmothers protesting the deaths in front of famed Rockefeller Center on Jan. 1. "I profoundly wish that the American people will rise up and say we don't want this for our children and grandchildren," a member of Grandmothers against the War told reporters.
"What the people need is information; and we plan to give them just that," Mr. Hamm revealed.
"On Jan. 20th at the Rutgers Law School in Newark, New Jersey, we are holding a conference entitled People's Peace Conference: The U.S. War in Iraq and Our Community, with the subtitle, Breaking The Silence In Our Community," said Mr. Hamm.
"The people must know that nearly $530 billion has been spent by this president on war, while cuts have been made in domestic programs dealing with education, health and housing," Mr. Hamm said. "A majority of the Black community, nearly 99 percent, have been against this war from the beginning. We want to make this opposition manifest; and this conference will be a springboard to further activities," he said.
(For more information on the conference visit, www.njpop.org.)