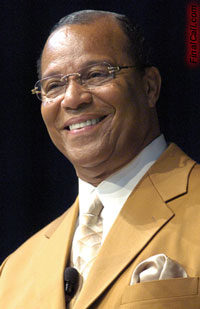 (FinalCall.com) – All across the world family, friends and well-wishers of the Honorable Minister Louis Farrakhan, continued their prayers for his health and recovery after his January 5th surgery.
"The doctors were pleased with the outcome of the operation," reported Minister Ishmael Muhammad, National Assistant Minister to the Honorable Minister Farrakhan.
"The Minister's condition is stable and he is conscious," said Min. Ishmael on a web cast to the Nation of Islam, Sunday afternoon, January 7th. "We have so much to thank Allah for."
Minister Farrakhan underwent a major and serious 12-hour abdominal operation, to help correct the severe damage caused by the radiated seed implantation procedure he received to treat his prostate cancer.
"During the 10-day period following surgery, he will be monitored closely for any complications. While we are grateful to Allah and relieved that the operation is over, he is still not out of the woods and in the clear."
"The doctors are guardedly optimistic about a full recovery that would significantly reduce or completely remove the constant pain that the Minister has experienced over the past several months and literally years," Min. Ishmael went on to say.
Considering what the Minister just went through, he looks very, very well. The recovery for Minister Farrakhan will take several weeks, but he is expected to be in Detroit for the Nation of Islam's 2007 Saviours' Day convention, February 25th, God willing, where he will deliver the keynote address entitled, "One Nation Under God" at the Ford Field Stadium.
"Before he went into surgery, the Minister said he set his face resolutely on Detroit," explained Min. Ishmael.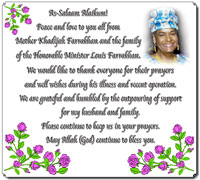 All of this was good news to the countless numbers of people from coast to coast and around the world, who expressed prayers and well- wishes for the Minister's speedy recovery.
Prior to the Minister's surgery, the believing community of the Nation of Islam went on a nationwide fast and prayer vigil asking Allah to bless the Minister for a complete recovery.
During the webcast, Minister Ishmael spoke on the great sacrifice of Fatima Muhammad, the Minister's daughter who continues to be his nurse 24/7.
"We are extremely grateful to the doctors and the medical staff and to Sis. Fatima for her loving care as a daughter and her nurse's training that she's providing for her father since his illness. She's been right by his side day and night."
On behalf of the Nation of Islam, he also thanked Minister Farrakhan's wife, Mother Khadijah Farrakhan, for her sacrifice. Minister Ishmael said that the Nation was blessed to have her abundance of strength that allows her to stick with the Minister every step of the way.
The many thanks included his children that have dropped everything in their lives to be with their father. The Nation is also thankful to the Minister's security team, as well as the cooks who have worked tirelessly at their jobs.
The following are excerpts from the warm regards received by the International Representative of the Nation of Islam, Minister Akbar Muhammad, on behalf of the Honorable Minister Louis Farrakhan.
Col. Mu'ammar Gadhafi, leader of the Libyan Revolution and Commander of the World Islamic People's Leadership, through the office of the Secretary-General, Dr. Mohammed Ahmed Sherif, sends well-wishes and prayers from the Libyan leader and his people for a speedy recovery to Minister Louis Farrakhan as the Deputy of the Worlds Islamic Peoples' Leadership.
Imam Warith Deen Mohammed called to say that he is praying for the Minister's recovery and sends his love and special greetings to Sister Farrakhan and the family.
Imam Siraj Wahaj of Masjid Al-Taqwa, called while Minister Farrakhan was in surgery to say that he's offering his prayers and his community will be praying for the success of Minister Farrakhan's operation.
Dr. Abdul Alim Shabazz, distinguished professor of mathematics and Islamic scholar, offered special prayers for the full and speedy recovery of Minister Farrakhan.
Dr. Kaukab Siddique, of New Trend Magazine, the largest Islamic website in America, has posted on their website to ask for prayers for Minister Farrakhan. "May Allah continue to bless Minister Farrakhan in this world and grant him the hereafter."
Dr. Imam Muhammad Kader, "May Allah bless Minister Farrakhan with a clear recovery. America and the world needs the leadership of Minister Louis Farrakhan."
Grand Imam of Africa, Sheikh Hassan Cissé, based in Senegal, sends his special prayers for Minister Farrakhan for a speedy recovery from the Muslims throughout West Africa. He further went on to say, "May Allah bless him with a quick recovery so that Minister Farrakhan can continue to fight and speak for the downtrodded and oppressed and Muslims all over the world."
Sheikh Mohammed Salis Shaban, then conducted special prayers on Friday Jan. 5th for Min. Farrakhan's successful surgery. They asked Allah to spare his life and strengthen his health so that he could continue to champion the cause of Muslims and Islam worldwide, and to bless him to bring about the unity of Muslims in cooperation with the human family so that we can live in peace.
The Islamic Society of North America under the leadership of Dr. Ingrid Matteson, offered her special prayers for his quick recovery and sends good will through Dr. Sanusi Mohammed. Dr. Mohammed also added that the Muslim world today is very much in need of the voice and contribution of Minister Farrakhan.
From Morrocco, special prayers were offered for Minister Farrakhan's health by Dr. Sidi Ahmed Kostas, along with Dr. Ahmed Addadi of the Ministry of Religion and Endowment Affairs of Morrocco.
Sheik Ahmed Ben-Omar Tijani offered prayers and called his many contacts in the Muslim world to inform them that Minister Farrakhan was about to have surgery and asked them to pray with him for a successful conclusion of this surgery. Sheik Tijani informed us that prayers were offered from Al-Aqsa Mosque in Jerusalem.
Luqman Abdul-Haqq (Kenny Gamble) of Philadelphia said that he was praying for the Minister before he went into surgery and asking Allah to bless him with a successful and a speedy recovery. Bob Law and Viola Plummer (New York) offered their prayers for a speedy recovery of Minister Louis Farrakhan.
James Mtume of New York called to say best wishes to his Brother and friend for a speedy recovery.
The following are excerpts from the warm regards received by the Chief-of-Protocol, Sister Claudette Marie Muhammad, on behalf of the Honorable Minister Louis Farrakhan.
"Love and greetings go to the Honorable Minister Louis Farrakhan and to his family. The priesthood of this community will be offering special prayers for the success of the surgery. His family and all the saints worldwide will be offering prayers," said the Honorable Ben Ammi Ben Israel through his representative Prince Asiel Ben Israel of the Hebrew Israelite community.
The Reverend Sun Myung Moon and Mrs. Moon of the Unification Church said, "We send love and greetings to Minister Farrakhan and Mother Khadijah."
Rep. John Conyers (D-Mich.), House Chair of the Judiciary Committee said, "Well wishes to Minister Farrakhan and Mother Khadijah. I look forward to seeing him in Detroit."
"I'm sending my love to my son," said Dr. Dorothy I. Height, chair and president emerita of the National Council of Negro Women (NCNW). "God is not through with you yet."
Rev. Dr. Johnnie Colemon, founder of Christ Universal Temple said, "Tell my son that I love him and God will bring him through and heal him so he can continue to do God's will."
Rev. Mitty Collier, former singer said, "I have a prayer line of over 100 who are praying daily for Minister Farrakhan."
Rev. Maxine Walker, publisher of Spiritual Perspectives said, "Tell my Brother I love him. My family and I always have him lifted in prayer. We truly believe God will bring him through."
Rev. Willie Wilson, pastor of Union Temple Baptist Church and executive director of the Millions More Movement said, "May God bless Minister Farrakhan, heal him and make him well. My wife, Rev. Mary Wilson and the Union Temple Church family will be saying special prayers for Minister Farrakhan."
Mustapha Muhammad, previously known as Charles Bobbitt (manager for James Brown), said, "My love and greetings goes out to Minister Farrakhan and his family. I truly believe God will bring him through successfully."
Susan Taylor, editorial director of Essence magazine said, "I am praying for the Minister's speedy recovery."
Dr. Erieka Bennett, special assistant to John Agyekum Kufuor, President of Ghana said, "On behalf of the people from Ghana we send warm wishes. Prayers will be offered for Minister Farrakhan's good health."
Tavis Smiley, commentator, activist and author, told Claudette Muhammad that he had spoken to the Minister before his surgery and extended his love and greetings. He said that he would keep the Minister lifted in prayers.
Actor and activist Harry Belafonte, also spoke to the Minister before his surgery and sent his love and hope for a successful recovery.
People from all walks of life and from different faiths, to those families whose lives have been touched and changed by the decades of work of Minister Farrakhan, have been offering prayers at all times of the day, in many languages, and by the young and old.
We continue to pray for his speedy recovery.