JIM.LOBE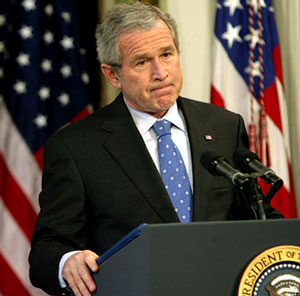 WASHINGTON (IPS/GIN) – Attitudes toward the United States reached new lows through most of the Arab world over the past year, according to the findings of a major news survey of five Arab countries released here by Zogby International and the Arab American Institute (AAI).
Based on 3,500 face-to-face interviews of randomly selected adult respondents in Egypt, Jordan, Morocco, Saudi Arabia and Lebanon, the survey found that the continuing deterioration in Washington's image was due primarily to U.S. policies in the region, particularly with respect to Iraq, Palestine and, to a lesser extent, Lebanon.
But it also found that attitudes toward U.S. cultural and political values have also become increasingly negative, compared with previous years' surveys, although not nearly as negative as Arab views of specific policies.
Particularly remarkable, negative opinions toward the United States have skyrocketed in two key Arab monarchies long considered close allies of Washington, according to the survey.
Nine of 10 Jordanian respondents said they held predominantly negative views of the U.S., up from only 32 percent on early 2005. Likewise, 87 percent of Moroccans said their views of the U.S. were unfavorable, up from 64 percent last year.
At least as worrisome to U.S. policymakers, a major beneficiary of growing Arab anger at Washington appeared to be Iran, according to AAI president James Zogby, who also acted as a consultant to Zogby International.
"As America's numbers go down, Iran's goes up," he told reporters. "That's the reality, and we're playing right into it."
While Arab leaders, including those with predominantly Sunni populations, "are very much concerned (about rising Iranian influence), the Arab public has a very different view," he said, noting that the survey results showed that most respondents were not worried about Iran's nuclear program, particularly compared to Iraq and Palestine.
More than seven in 10 respondents in Saudi Arabia, Jordan and Morocco, as well as a majority in Lebanon, said U.S. efforts to curb Iran's nuclear program contributed to their negative views of Washington.
The new survey, the third in a series that began in 2002, comes amid growing controversy here over the Bush administration's policies in both Iraq and the broader Middle East.
Public confidence in the U.S. in Pres. Bush's approach to the Iraq war, in particular, has plummeted, especially since the Democratic sweep of the mid-term congressional elections in November. The long-awaited release of the report of the bipartisan Iraq Study Group (ISG), which called for a major overhaul of U.S. policies toward the region, including the engagement of Iran and Syria and a major new diplomatic effort to resolve the Arab-Israeli conflict, has further fueled the fierce debate.
While the ISG, which was headed by former Secretary of State James Baker and former Rep. Lee Hamilton, has come under strong and sustained attack by neo-conservative media–such as the Wall Street Journal's editorial page and the Weekly Standard, which often speak for administration hawks led by Vice President Dick Cheney–Zogby insisted that its stress on the necessity for a wider regional approach both to the war in Iraq and the rise of Iran was fundamentally correct and largely borne out by the survey results.
"What this poll says to me is that Baker-Hamilton are right," he said. "If we want to salvage our credibility in Iraq, we have to address issues of concern to our (Arab) allies. It's risky for (Jordan's) King Abdullah to meet with George Bush when 90 percent of his population feels negatively toward America."
Those concerns were spelled out in greatest detail by a series of questions regarding the impact of five specific U.S. policies on respondents' overall opinions of the United States.
Between 86 percent and 96 percent of respondents in Saudi Arabia, Morocco and Jordan; between 62 percent and 74 percent of Lebanese, and a majority of Egyptians cited U.S. policies toward Palestine, Iraq and Lebanon as having either a "negative" or "very negative" impact on their views of the U.S.
Respondents objected less strongly to U.S. efforts to promote democracy and curb Iran's nuclear program, although majorities ranging from 51 percent to 80 percent in Saudi Arabia, Morocco, Jordan and Lebanon said these also contributed to their negative opinions of the U.S. Strong pluralities in Egypt agreed.
Asked about how their opinion of the U.S. had evolved over the past year, roughly three in four Egyptians and Jordanians, six in 10 Moroccans and Saudis, and nearly half of Lebanese respondents said their views were more negative.
Asked to identify the two biggest factors that contributed to their more negative views, respondents in each country except Lebanon (where U.S. policy toward Lebanon was cited as the most important factor) named Iraq and Palestine.
Similarly, asked to rank the impact of five key issues as having the greatest negative impact on their economic development and political stability in their countries, most respondents in all five countries put either the Arab-Israeli conflict or the Iraq war at the top of their lists, followed by the Israel-Lebanon conflict.
"Political reform" was cited as having the most important impact only in Morocco and was otherwise rated as third or fourth on respondents' lists. Overall, "nuclear Iran" was rated as having the least negative impact.
Overall, negative views of the U.S. were highest in Jordan (90 percent) and Morocco (87 percent), followed by Egypt (83 percent), and Saudi Arabia (82 percent).
In Lebanon, where opinions on a range of issues were highly polarized between Shi'a and Christian respondents, in particular, 68 percent of respondents said their views towards the U.S. were unfavorable, an increase from 60 percent in early 2005.
The survey also found high levels of uncertainty in all five countries compared with 2005. More respondents in each country said they considered themselves worse off than they were four years ago. In Jordan and Egypt, where nearly six out of 10 respondents said they were worse off, the results were particularly striking. That amounted to nearly a four-fold increase compared to their answers to the same question in early 2005.