ADDIS ABABA, Ethiopia (PANA) – The African Union (AU) Commission, Chairperson Alpha Oumar Konare, recently warned of serious consequences if the militias should attack the African peacekeeping force base at El Fasher in Sudan's war-ravaged western region of Darfur.
The warning followed reports from the Force Headquarters of the AU Mission in the Sudan (AMIS) that the militias had invaded a cattle market in the town, fired shots and harassed residents on Dec. 4.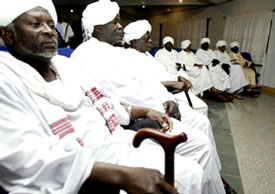 According to the reports, two of five Sudan Liberation Army/Movement (SLA/M) soldiers who intervened have died from injuries they sustained during the rebel raid. An AU Commission statement said the unarmed SLA/M soldiers, who sustained varying degrees of injuries, were treated at AMIS hospital in El Fasher. Two militia elements were reportedly killed during the invasion, but the number of injured militias was unknown.
The Commission said the intervention by the SLA/M soldiers led to extensive firing from the militia, adding, however, that the quick intervention of AMIS forces prevented an escalation of the situation.
"The situation continues to be extremely tense and the reports received from the field indicate that the city of El Fasher is under threat of attack within 24 hours by a coalition comprising the SLA/M, the G19 and the National Redemption Front (NRF). The AMIS Camp at Force Headquarters could be a target," the AU Commission said.
Mr. Konare condemned the acts of violence, warning all the parties, that any threat to AMIS camps, personnel and properties, would be viewed as a deliberate violation of the ceasefire agreements and protocols. He stressed that violation of the Darfur peace deals would be viewed as a provocation against AMIS forces, whose main objective is to ensure that peace and stability were restored to the region.