FCNNEWSSOURCE
Rev. Jesse Jackson, Sr. Bio Sketch (The Rainbow/PUSH Coalition)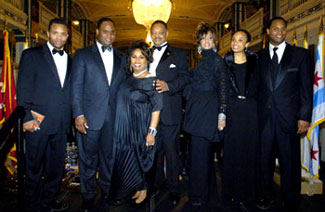 CHICAGO (FinalCall.com) – Entertainers, politicians, celebrities, civil rights and social justice activists, business legends and community leaders all rubbed shoulders Oct. 28 during an evening celebration of a double milestone: the 65th birthday and 40 years in civil rights activism of Reverend Jesse Jackson Sr., founder and president of the Rainbow/PUSH Coalition.
Held at the historic South Shore Cultural Center, Rev. Jackson's "65/40" black-tie affair and fundraiser drew famed figures and supporters including Dr. Camille Cosby, wife of entertainer and education activist Bill Cosby; Johnson Publishing powerhouse and philanthropist Linda Johnson Rice; U.S. Senator Barack Obama; U.S. Representatives John Lewis, Maxine Waters and Jesse Jackson Jr.; Illinois Governor Rod Blagojevich; and civil rights leaders Julian Bond, Andrew Young and Bruce Gordon of the NAACP and Reverend Al Sharpton of the National Action Network. Many of the distinguished guests arrived by limousine at South Shore Cultural Center, an elegant former country club now open to the community.
News anchor Allison Payne of WGN-TV in Chicago, business leader Cirilo McSween and Mrs. Jacqueline Jackson took turns with Dr. Cosby hosting the evening's gala program. Awards honoring contributions to the Civil Rights Movement were presented to Washington power broker Vernon Jordan, U.S. Reps. Waters and John Lewis; civic and business leader Joel Ferguson; attorney Willie Gary, and entertainment manager Dolores Robinson. Each honoree's name was greeted by a standing ovation as the dignitaries walked into the grand ballroom.
Rev. Jackson, moved by the strong turnout and well wishes, thanked his wife, who organized the event, and the many hundreds of supporters who made the gala a reality.
"I feel a special sense of joy from so many friends and families who have worked with us throughout the years," said Rev. Jackson, who began his civil rights journey 40 years ago as an aide to Dr. Martin Luther King Jr. "I want my friends to help me do two things: help me send a student to college and help me inspire our people to vote."
"Our honorees are being recognized for their economic and spiritual genius that has enabled them to create opportunities that have enhanced the quality of life for others," Mrs. Jackson said.
Proceeds from the event, she added, will benefit the Jackson Foundation's college aid fund, which provides scholarships for students to attend college and supports an endowment at Hampton University and North Carolina A&T University.
Rev. Jackson and three of his five children (Jesse Jr., Jonathan and Jackie) graduated from North Carolina A&T. His mother-in-law, Gertrude Brown, graduated from Hampton.
"I am a product of these scholarships," said Derryl "Mad Hatter" Caldwell, owner of the DC Mad Hatter shop on Navy Pier, referring to Rev. Jackson's longstanding commitment to scholarships. "The history of the struggle allowed me the opportunity to have my own business, to be an entrepreneur. Men like Rev. Jackson have opened up doors for me."
"I am so happy tonight," Mrs. Jackson said. "This is our celebration, and I am happy to be with you. The Jackson Foundation is very close to my heart. It was inspired by my mother."
At the age of 64, Mrs. Brown returned to school to get her high school diploma. She later graduated from Hampton University, where she earned an undergraduate and master's degree.
Live music performances by dance music diva Ce Ce Peniston and R&B singer Terisa Griffin, who sang an assortment of Rev. Jackson's favorite tunes, entertained the packed crowd. But the evening also reminded many gala attendees of the significance that Rev. Jackson's commitment to social and equal justice has played through history.
"We would not be here if it was not for Rev. Jackson," Sen. Obama said. "We stand on his shoulders. For somebody who does not have a voice, he is the first on the scene."
"Let's take the time and wish this man and warrior, this fighter, this Brother, a happy birthday," Rep. Lewis said. "When I was growing up in rural Alabama, I asked my parents about segregation, and they said that is the way it is, don't get in trouble, don't get in the way. Jesse has been able to do what I called 'get in the way.' We pray that Jesse Jackson continues to 'get in the way' [of the powerful], to liberate us all."