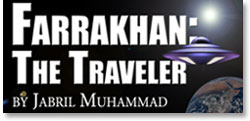 Of the Encarta Dictionary's definition of the word "gap" is this: "An area where there is a complete or partial absence of something; an interval of time during which some action or event stops occurring; a significant difference between things, attitudes or perceptions."
Other dictionaries provide simi-lar and or other words to define the word "gap." But for now, there is one more thing about Closing The Gap that I could not fit into my last article that appeared in this illustrious newspaper. I am not overdoing it in my use of the word "illustrious" in partly describing the edifice known as The Final Call.
I won't go into it now except to mention that all one needs to know is to study the idea that was and is in the mind of the Honorable Minister Louis Farrakhan, as to where he got that idea from–the Honorable Elijah Muhammad–and where in scriptures that it is prophesied of such words that goes on in The Final Call to agree with me that the word "illustrious" is very appropriate.
What I did not have space to mention about Closing The Gap is that I wanted the physical aspects of the book, including the typesetting of the words, to affect the reader's attitude towards the book's readability.
Minister Farrakhan's words, or teachings, or answers to my questions, contain the same three elements that are contained in the Teachings of the Honorable Elijah Muhammad. Why? Because he has not changed his teacher's Teachings.
Those three elements are life, light and power.
Have you read Minister Farrakhan's words of his trials during the first 19 years of his Islamic life? Have you read his answers to what is fun? Have you read his answers that explain what's going on in our lives when things seem to be going absolutely upside down?
Let's go back to Brother Mustafa's letter which I started last issue. He is translating Closing The Gap into Spanish.
"In 1969, when I was 16, I was hitchhiking from Goleta to Santa Barbara and happened to be picked up by two stern, strong-looking (F.O.I. for sure) young men, each dressed in a suit and tie. They were quite cordial and respectful and immediately handed me a Muhammad Speaks as I climbed into the back seat. I forgot what else transpired during the rest of that short journey, but suffice it to say that Allah once again was reaching out to me.
"Over the next five years, Allah reached out to me on numerous occasions until finally, in the winter of 1974 I visited the Aztlan Fish Market in Boyle Heights, East Los Angeles–the Mexican Barrio of L.A. It was run by Minister Manuel 2X and Brother Vincent–both registered members of the NOI. I was taken there by a 17-year-old Apache Brother whose mother was in the Nation of Islam. Her name was Sister Elia. In fact, the first time I ever saw (the picture of) Master Fard Muhammad was in her home. I had already seen a picture of the Messenger in my friend Conrad's house when I was fourteen.
"Although I absolutely accept-ed in spirit the Messenger's Teachings at that time, I–due to circumstances beyond my control–was obliged to re-locate to Northwestern México to live with my Grandfather before I could get my "X".
Shortly after I moved, the Messenger departed and I began to follow Wallace through my subscription to Muhammad Speaks. I became disillusioned with his leadership after a few years, although I continued to receive his organization's weekly journal since it was my literal lifeline to the only Muslim community I knew about at that time.
"Years went by and I spoke on innumerable occasions to my people down there about Islam and Messenger Muhammad. I can say truthfully that most people displayed a keen interest and wanted to learn more than my limited knowledge would permit. Notwithstanding, al-Hamdulillah (all praise is due to Allah), I managed to sow many seeds whose fruit needs harvesting.
"Let me be blunt. The majority of people in México do not like gringos, or as we Mexicans call them, gabachos. Closing The Gap is sorely needed down there as well as up here for the exploding Spanish-speaking population. So let's get busy!
"In closing, let me just relate to you, kind reader, one more occasion in which Allah, once again, reached out a guiding hand to me. In the summer of 1986 in México, I was visiting some friends who were locked up at the local prison. They all knew I was Muslim.
"As I was entering the cell of my friend Martín (you can do that in México), he introduced me to one of his several cell mates. He told me that he (this particular cell mate) was a Muslim, too.
"This Muslim, as strange as it might sound, began sharing with me the Honorable Minister Louis Farrakhan's more than a vision-like experience that had occurred less than a year before! He had typewritten documents and (if I remember correctly) a black & white photo of the Minister (imprinted on one of the documents).
"This was in a prison deep in México! A coincidence? I do not think so! All praise is due to Allah! My people need the teachings in Spanish. There is a huge need!"
Agreed, Brother Mustafa!!!
Have you read in Closing The Gap Minister Farrakhan's answer to this question: "Brother Minister, the Honorable Elijah Muhammad has given us prayers, using the words 'seeking refuge in Allah.' The Holy Qur'an speaks of that especially Surah 113 and 114, with which it closes. What does the concept 'seeking refuge' mean?"
Or have you read his answer to: "Brother Minister, in the light of your knowledge of the Word of God, through our father and the scriptures, what is friendship?"
Or have you reflected on Minister Farrakhan's answer to this: "Brother Minister, in this book, A Torchlight for America, you have a small section about five paragraphs long, about 'Put God First.' How would you advise America, given what they call a pluralistic society, to wisely put God first without running into all of these constitutional arguments and whatnot?"
More, next issue, Allah willing.