By Richard Muhammad
StraightWords e-zine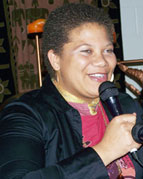 CHICAGO (FinalCall.com) – Misty De Berry has a presence, voice, smile and confidence that can light up a room. But when she spoke to a room full of Black women and a few Black men on a recent Friday night, the performer turned on a different light. She shared her experience as a survivor of sexual assault.
The young woman struggles with what she often calls the night of the bad date, or the date that didn't go right.
"I don't know what to say about it," she said. "I was raped. I'm intentionally using that word."
Her struggle and resilience were echoed by a panel of Black women Oct. 6 who spoke during a weekend devoted to starting a conversation about sexual assault in Chicago's Black community and what can be done about it.
The "S.O.S."–Saving Our Sisters, Saving Our Selves–weekend included the panel discussion, workshops, victim counseling and trainings about sexual assault, a film festival, media training and frank conversations about the victimization of Black women and girls.
According to the Red Eye, a tabloid edition of the Chicago Tribune, there were 1,200 rapes in the city last year, said La Vida Davis, of the Asha Group, a principal organizer of the weekend with the All Hail Project and the Blackgirls Anti-Violence Project. The neighborhoods with the highest numbers of assaults were Black, she noted. The exception was one Latino community that ranked among the highest in the city.
"The abuse that we perpetuate is the self-hatred we have for ourselves," said Ms. Davis. "The same thing that allows a Brother to think it's okay to sexually assault and rape a sister, or batter her because she's being 'smart,' or he thinks she's cheating, is the same thing that informs that Brother that it's okay to shoot another Brother because of the way he looked at him," she contended.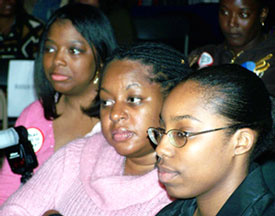 "Often when we talk about violence, it's either the hyper 'youth predator' thing, which is incorrect, or it's about gang violence couched in just male contexts and totally ignores all other forms of violence that goes on, specifically against Black girls and Black women," she continued. "It's all the same thing, it's all connected."
Sharon Powell, of the All Hail Project, believes that, "By confronting the issue of violence against women, we can begin to create a space for Sisters to heal. We also hope to use the arts as a tool to stimulate dialogue and community action."
The discussion offered basic facts about sexual violence along with stories told through the eyes of researchers, writers, survivors, advocates, activists and eyewitnesses. Abuse cuts across lines of income, education, age, geography and sexual orientation, said presenters.
"You need a partner in order to have intimate partner violence. And the more ownership a person thinks that they have, the more likely there is to be violence," said Esther Jenkins, Ph.D., a psychology professor at Chicago State University who shared the results of a survey of middle school students.
Ninety percent of the 12- to 14-year-olds polled perceived themselves as being in a committed relationship. Surveys found about 10 percent of teens, girls and boys, admitted that they had been made to do something sexually they didn't want to do, she noted.
"So it (research) suggests something bigger than just, 'I'm going to show you how to be a good boyfriend or a good girlfriend.' It suggests we need to talk about how do you get kids, particularly those who are raised in violent communities and see a lot of violence, to understand that you don't use violence in your relationships period," Dr. Jenkins explained.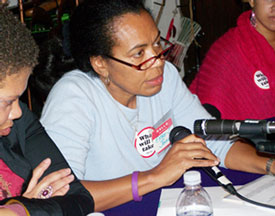 Dealing with sexual violence will take more than just focusing on individual cases, Dr. Jenkins said. Having more widespread education in schools, for example, may be needed, she added.
"It's very important that people understand what sexual violence is. Most people think it's what happened to me, a stranger with a weapon, but the majority of people who are raped are raped by someone they know," commented Lori Robinson, a former writer for Emerge magazine. She was also one of the evening's panelists.
"Consequently, there are lots of people walking around suffering the consequences of rape, without even understanding why, and understanding what happened to them," said Ms. Robinson, who is the author of "I Will Survive," a book specifically written to help Blacks heal from sexual assault and abuse.
Ms. De Berry, a date rape victim four years ago, didn't fully realize what had happened to her until she wandered into an online chat room for survivors of sexual assault.
Seeking a safe space
According to the evening's presenters, rape and sexual violence are connected with overall Black-on-Black violence, complicated by ambivalent feelings about turning Black men over to an oppressive criminal justice system and a continued community refusal to confront the problem head-on.
Tennille Power runs a YWCA full service rape crisis program. It provides medical and legal advocacy, counseling, public education and community outreach. It is the only rape crisis center on the Southside of Chicago and has seven counselors.
She and others believe Black women need a safe space to talk about sexual violence within their own community and a space independent of White organizations engaged in similar work. Black women must navigate a much different terrain, they argue. Often within the community, there is a lack of support; and outside the community, whether in service-providing or the legal system, there are other hurdles and a lack of trust, they said.
"With White women…they feel like they can identify with me as a Black woman on the woman level, but when it's time to talk about race, they back up and back away, and they're afraid to talk about that," Ms. Power said. "So it's important for Black women to have space to do this work and we've had to fight to maintain to keep our space in this work."
She also warned that increasing numbers of teenage girls are victims of gang rapes by four or five males. The girls don't know how to respond and some see it as a kind of rite of passage because their mothers or other female relatives endured rape, she said.
"If we don't do something, we will see an annihilation of our Black women," she cautioned.
"Our young ladies are getting abused. No one knows, who even cares to find out about it?" asked Natasha Pittman, a Blackgirls Anti-Violence youth coordinator.
She has been exposed to violence and seen women beaten by their boyfriends. Some females are experiencing violence as they look for love or replacements for fathers that have abandoned them, the teenager said.
S.O.S. organizers believe it will take a multi-pronged approach that ranges from community organizing and public education to the expansion of existing women's shelters and services to using the arts in this struggle. It hopes to provide space where people can come together to seek solutions and plans post-weekend follow-up sessions.
There is also a place in the struggle for men and the larger community.
Sabrina Hampton, of the Chicago Metropolitan Battered Women's Network, talked about how some men come to court-ordered batterers programs, wanting to change. But, she said, they go back into communities where violence against women is tolerated.
Others echoed her sentiment. Author Lori Robinson, who often tours college campuses talking about sexual violence, said she was gratified to see men around the country engaged in activism and educating youth about sexual violence.
"This is a women's issue, but it's a men's issue," she maintained. "We won't end sexual violence until men become engaged in this issue."
(Richard Muhammad did media work for the SOS weekend. He is the editor of Straight Words e-zine at straightwords.typepad.com.)