JIM.LOBE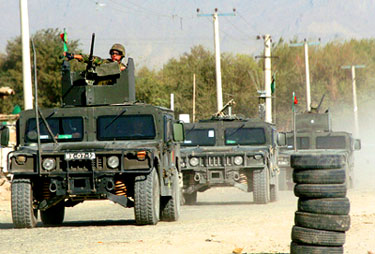 WASHINGTON (IPS/GIN) – Five years after the CIA was putting the final touches on a brilliant campaign plan to oust the Taliban and its al-Qaeda allies from power, Afghanistan is back in the headlines here, and the news isn't good.
An unexpectedly fierce and prolonged Taliban offensive that began last spring has U.S. and NATO officials deeply worried that they face a serious resistance fueled by a thriving drug trade and growing popular disaffection with the government of President Hamid Karzai.
Greatly compounding their concern is Pakistan's recent ceasefire agreement with pro-Taliban Pashtun tribal leaders to withdraw thousands of army troops from North Waziristan and release several hundred Taliban and al-Qaeda members from jail.
The accord, similar to one reached with pro-Taliban forces in South Waziristan two years ago, reportedly obliges the tribal chiefs to prevent Taliban and al-Qaeda forces from crossing into Afghanistan, but most experts here considered those pledges a mere face-saving measure that enabled Pakistan's president, General Pervez Musharraf, to insist during his visits with increasingly skeptical U.S. officials here and in Britain over the past two weeks that he remains committed to the anti-terror fight.
But even as Pres. Musharraf sat down with Pres. Karzai for a peace-making dinner hosted by President George Bush on Sept. 26, an anonymous senior U.S. military officer was telling reporters in Kabul that cross-border attacks by Taliban forces had, in fact, tripled since the North Waziristan truce actually took effect in late June.
Several days later, the Washington Post reported on a captured al-Qaeda document that strongly suggested that at least part of the group's top leadership is in fact living in North Waziristan, bolstering claims that the truce had created, in Newsweek magazine's words, a "Jihadistan' … an autonomous quasi state of religious radicals, mostly belonging to Pashtun tribes" stretching from central Afghanistan to much of northwestern Pakistan.
Whether the White House dinner helped reconcile the two leaders remains highly doubtful; U.S. officials made no attempt to convince inquiring reporters that any major breakthrough had been achieved.
In any event, the deteriorating situation in Afghanistan–and the increasing media attention it is getting with the marking of the fifth anniversary of the launch of U.S. operations there–has added to the growing pessimism among the foreign policy elite here about Pres. Bush's "global war on terrorism."
It was only last spring that top administration and military officials told reporters that Washington planned to withdraw about 25,000 troops from Iraq and 4,000 troops from Afghanistan by now. At the same time, Vice President Dick Cheney was confidently describing Afghanistan as a "rising nation" from which U.S. forces could return home "proud of their service for the rest of their lives."
Mr. Cheney, whose sunny optimism on Iraq has become fodder for late-night comedians, used precisely the same phrasing about Afghanistan as recently as two weeks ago. But both the military, which has increased U.S. troop levels from 19,000 six months ago to nearly 22,000 today, and independent analysts see a much darker picture in light of the intervening Taliban offensive, which has reportedly taken the lives of at least 2,800 Afghans and more than 160 U.S. and NATO troops in the past year.
Not only has the death toll been the highest for any year since 2001, but the Taliban campaign has been made more deadly.
"My fear is that Afghanistan is beginning to look like Iraq," Richard Haass, president of the influential Council on Foreign Relations and a top aide to former Secretary of State Colin Powell, recently told the Washington Post. "We're seeing the beginning (of the) Iraqification of Afghanistan."