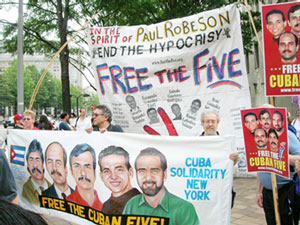 THE WHITE HOUSE (FinalCall.com) – Hundreds of protestors from cities across the U.S. assembled here for the first demonstration supporting five Cuban men who the marchers insist have been unjustly imprisoned for opposing U.S. supported anti-Cuba "terrorists" in Miami.
Chanting, "Free, free the Cuban 5," demonstrators marched to the White House from the Justice Department, where buses, vans and cars from New York, Philadelphia, Boston, New Jersey, Chicago, Ohio, Virginia and other areas were unloaded.
"They've been treated unjustly," Reverend Lucius Walker, founder of Pastors for Peace, told The Final Call. "They've been treated as terrorists when, in fact, they were the ones who signaled the United States to the existence of terrorists and their plans to bomb planes and to destroy targets in the U.S. that would include U.S. citizens."
The five men–Gerardo Hernández, Antonio Guerrero, Ramón Labanino, Fernando González and René González–were convicted in June 2001 of espionage conspiracy charges after they discovered plots by anti-Cuba groups in Miami to carry out illegal, violent acts in this country and on the island nation, targeting civilians. Although the Cuban 5 won a new trial in August 2005 from a three-judge panel, the full 11th Circuit Court of Appeals in Atlanta reversed their court victory in September. Their attorneys are continuing the appeals process.
"So we think that we have to continue to work to mount a national campaign to force fair treatment, a fair trial and ultimately freedom for them," insisted Rev. Walker.
"The United States government sided with the anti-Cuban terrorists in Miami, locked these people up, sentenced them to life in prison, where they're there in solitary confinement," Brian Becker, of the International ANSWER Coalition, said in an interview. "And we're here demanding justice for those five people, that they be given a fair trial and that they be released. They're the ones who should be free. Those who are perpetrating acts of terrorism against Cuba, they're the ones who should be in jail, like Posada Carriles."
The Justice Department was chosen for the start of the march because Attorney General Alberto Gonzalez has refused to classify Luis Posada Carriles as a terrorist, which could set the stage for his imminent release from jail in Texas. Since June, he has been held only for violating U.S. immigration laws, and not for the many terrible crimes of which he has been convicted and others for which he stands accused.
Protestors expressed their anger at Mr. Gonzales' inaction and the continued incarceration of the Cuban Five, by chanting, "Jail Posada, free the Five."
Mr. Posada Carriles was convicted in Venezuela for bombing a Cuban airliner on Oct. 6, 1976, killing 73 people. He escaped from prison there and made his way illegally to the U.S. Venezuela, which has an extradition treaty with the U.S., is formally seeking his lawful return to that country. He is also implicated in the bombing of a hotel in Havana and the murder of former Chilean diplomat Orlando Letelier, who was assassinated along with researcher Ronnie Moffitt in Washington, D.C. in Sept. 1976.
"It has been nine years now since my brother's death. Luis Posada Carriles is being held in jail for immigration violations, while five anti-terrorist fighters from Cuba, who had infiltrated the same organizations in Miami responsible for the murder of my brother, are in the U.S. jails. I find this unacceptable," Livio Di Celmo, an Italian, told The Final Call. His brother Fabio was killed in Havana's Copa Cabana Hotel in 1997 by a bomb planted by a mercenary on the payroll of Posada Carriles, Mr. Di Celmo maintained.
"Up until now, I have met solidarity groups with Cuba from throughout the world, but never from the United States. This is the first time I met the solidarity groups with Cuba in the United States," he shared, "and I am very moved by their passionate, hard work and commitment to this cause."
Francisco Letelier, son of Orlando Letelier, spoke at the rally. "Today, we know that the [Cuban Five] were undertaking the task that intelligence agencies are really supposed to undertake, the discovering of information, the investigation of crimes of terror. Today, 30 years later, we know that Posada Carriles is implicated in the death of my father."
He explained that his reasons for being present at the rally were clear. "The story of the Cuban Five is connected to a historical relationship throughout the Americas, of people pursuing sovereignty, the right to live in peace, self-determination, justice. That is why I am here today; one more voice, one more story, one more person that joins this much greater movement, a coalition amongst all of us," he continued.
"Fabio was sitting right next to the bomb," Mr. Di Celmo said. "A piece of shrapnel cut his throat. By the time he got to the hospital, there was not one drop of blood left in his body. Slowly but surely, I started discovering that Cuba had suffered over 3,400 innocent Cuban civilians being killed by terrorist groups from the right-wing Cubans living in Miami."
Speakers at the rally and a forum later at George Washington University included: Minister Akbar Muhammad, International Representative of the Nation of Islam; Wayne Smith, ex-chief of the U.S. Interests Section (embassy) in Havana; José Pertierra, Venezuela's attorney for the extradition petition of Mr. Posada Carriles; Heidi Boghosian, executive director of the National Lawyers Guild; Saul Landau, fellow, Institute for Policy Studies; coordinator Andrés Gómez; Gloria La Riva, coordinator, National Committee to Free the Cuban Five; and Cheryl LaBash for the National Network on Cuba.
Related news:
Cuban 'bomber' seeking U.S. asylum was on CIA payroll (FCN, 03-24-2005)