FCNNEWSSOURCE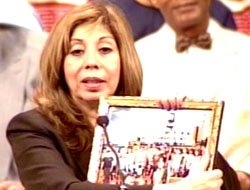 (FinalCall.com) – In a special presentation to the Honorable Minister Louis Farrakhan, Emma Lozano offered a framed photo of families of La Familia Latina Unida, who have either been separated or are on the verge of being separated because of the "unjust laws of this empire," declared the Latino activist, who played a critical part in mobilizing and organizing the Latino community for the Million Man March and the Millions More Movement.
The gift, she said reading the engraving, was "in appreciation of the unconditional love of Minister Louis Farrakhan" and was warmly received by Minister Donna Farrakhan on behalf of her father.
In her remarks, Ms. Lozano shared special greetings from Elvira Arellano, a Latino Mexican-born activist who received sanctuary in a Westside church from an August 15 immigration deportation order that would have separated her from her son, who is a U.S. citizen.
In a fiery witness-bearing, she acknowledged Minister Farrakhan as the "great teacher and messenger of our times who has shown his love to us and for our cause of freedom."
Calling for the strengthening of unity, she said, "Allah has not made us tribes of one another. When we stop trying to be somebody else, we find peace and unity forming between us." She further chided, "Why would we want to assimilate into a culture that is bankrupt," calling the U.S. culture one of individualism, greed, exaggerated self-interest and arrogance in the face of God.
Highlighting the struggle of 25 million undocumented immigrants in the U.S. against Homeland Security, Ms. Lozano emphatically said that human beings get their rights from God and not governments.
"We love our people. We are the people of God," she concluded. "Allah (God) has made us fruitful. That's why we are so many, as the stars in the sky."