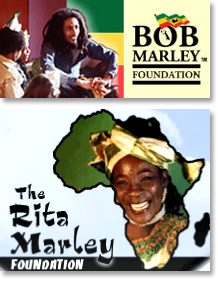 Cape Town, South Africa (PANA) – Rita Marley, Reggae legend Bob Marley's widow has announced that the Bob & Rita Marley Foundations will bring "Africa Unite 2007" to South Africa next January.
Through a series of benefit concerts, symposiums, fundraisers and events, Africa Unite 2007 will encourage peace, education and empowerment for youth in Africa while reinforcing the significance of Bob Marley's Songs of Freedom to manifest change throughout the world.
Africa Unite has joined forces with the Emerging Leadership Programme, an initiative of the Desmond Tutu Peace Centre, to honour the spirit, legacy and music of Marley while supporting African youth with the Shanduka Foundation's adopt-a-school programme and the Ubuntu Institute for Young Social entrepreneurs.
Each organisation will contribute their combined resources to Africa Unite 2007 and share in the singular goal to unite Africa through peace, education and empowerment for all people.
"Our family is committed to keeping the legacy and teachings of Bob alive to spread love worldwide through the power of music, which is a gift from God," Rita Marley here Tuesday.
"I have so much hope for Africa. It is our goal to bring life to the words of" Africa Unite" and aid where help is needed, while creating opportunities and sustainable change for youth in Africa and worldwide, she added"