Democratic Republic of Congo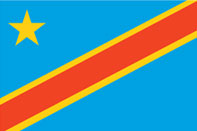 Map/Satellite: D.R. Congo
Area: 905,000 sq miles, about a quarter the size of the U.S., larger than western Europe
Population: 52 million (July 2000 est.)
Ethnic groups:
Over 200 African ethnic groups of which the majority are Bantu
Religions: Roman Catholic 50%, Protestant 20%, Kimbanguist 10%, Muslim 10%, other indigenous beliefs 10%
Languages: French (official), Lingala, Swahili, Tshiluba and Kikongo
Government type: transition
Capital: Kinshasa
Independence and National holiday: June 30, 1960 (from Belgium)
Currency: US$1 = 300 Congolese Francs
JOHANNESBURG, South Africa (PANA) – The South African Observer Mission (SAOM) Thursday declared DR Congo's 30 July presidential and parliamentary elections "democratic, peaceful and credible".
"Taking advantage of these elections, the first in more than 40 years, the people of Congo turned out in large numbers to choose their leaders, hoping for peace, national independence, national unity and reconciliation, democracy, human rights and development," the team said in its interim report.
"The SAOM is confident that the Congolese political leadership will build on this historic achievement to take the country forward to lasting peace, stability and economic growth," the report added.
It, however, noted that the stipulated equal representation of men and women was not adhered to by the political parties in their nomination of candidates, with only four female presidential candidates.
Thirty-three candidates ran for the presidency and 9,632 for the 500-seat National Assembly.
The South African observer team noted that overall, the candidates and the electorate had demonstrated high levels of political tolerance.
"The SAOM came to the conclusion that the election campaign was conducted in a climate free from fear of repression of divergent viewpoints in the media," the report said.
But the mission regretted that some lives were lost during isolated incidents of violence.
"While this was tragic, the election campaigns, in general, proceeded peacefully and voters were not deterred from going to voting stations on Election day," the report stressed.
The Mission also commended the Independent Electoral Commission for the professional and impartial manner in which it conducted and managed the elections.
The 128-member observer mission, led by Mluleki George, deputy Minister of Defence, arrived in the DR Congo 19 July and observed all the phases of the elections.
The team included government officials, MPs, as well as representatives of religious groups and civil society organizations.