FCNNEWSSOURCE
IFCO/Pastors for Peace (Official Site)


The 17th Pastors for Peace Friendshipment Caravan to Cuba successfully crossed back into the United States via Hidalgo, Texas on July 17, after delivering 60 tons of humanitarian aid to Cuba, followed by an informative and exciting eight-day educational visit to the island. Even though the Bush administration continues to restrict travel to Cuba, Pastors for Peace continues to go without fear of retribution or reprisal. In this one on one interview with Final Call Staff Writer Nisa Islam Muhammad, Rev. Lucius Walker, Jr., executive director of IFCO/Pastors for Peace, explains the Caravan's motto of "Cuba is our neighbor: End the blockade now" by describing how the organization's faith has governed them to "resist any law" which would keep them from fulfilling their biblical mandate to "love our neighbor."
Final Call (FC): Congratulations on another successful caravan. Tell me what it was like.
Rev. Lucius Walker (LW): We had 98 people who came from 14 different routes. Four routes came from Canada and 10 routes came from the U.S. The routes picked up supplies along the way from 120 cities and we met in McAllen, Texas for three days before we crossed the border, July 8.
FC: What did the Caravan take to Cuba?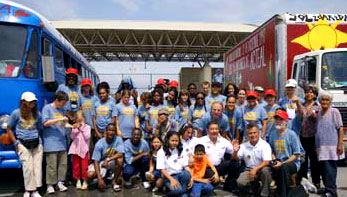 LW: We took two big buses, two ambulances, an x-ray machine, an incubator, a defibrillator, an EKG machine, wheelchairs–they need lots of these–medicine, medical equipment and supplies, computers and exam tables.
These things came from all across the country from states such as California, Washington, Arizona, Illinois, Indiana and Wisconsin.
FC: Please describe who made up the Caravan.
LW: We had a combination of new and returning people. In fact, we had 40 new people travel with us, which is remarkable. We had more African Americans and Hispanics this year than in previous years. We also had a lot of young people who went on the Caravan too.
FC: What did you do when you arrived in Cuba?
LW: We divided into three groups and visited three different provinces on the island. Some of us were in Pinar del Rio, some at Matanzas and others stayed in Havana.
We watched special treatments for the hearing and visually impaired. We watched an eye operation on closed circuit television, and we even went to the Cuban Ballet featuring its director, Alicia Alonzo.
I did a special session explaining Washington's new report on "transitioning" Cuba toward Democracy. We met with Ricardo Alarcon, president of Cuba's National Assembly. We also met with the medical students there.
FC: What are your thoughts on the administration's new proposal "Commission for Assistance to a Free Cuba" to transition Cuba to democracy?
LW: The U.S. government recently released a new report which spells out Bush's fantasy for annexation of Cuba to install a puppet government which serves U.S. interests, and to dismantle Cuba's world-renowned health care and educational systems.

The report is based on lies and distortions. It claims to show concern for the very same Cuban people who have suffered so terribly for so many years precisely because of the U.S. government's relentless economic war against Cuba.
Bush's desperation only increases our resolve: we must not allow the Bush administration to destroy Cuba.
FC: How were you greeted upon your return?
LW: When we arrived at the Hidalgo border we were met by many familiar faces–some of the same Homeland Security agents who had interrogated and searched us in previous years.
Apparently the Caravan had not been expected so early at the border; agents were still making multiple copies of blank interrogation questionnaires when we entered the immigration hall.
Members of the Caravan remained highly disciplined and in excellent spirits as we faced interrogation and searches by more than 75 Homeland Security and Treasury officials.
The entire process took five hours, including attempts at interrogation and hand searches of their personal luggage.
FC: What do you think about all of this?
LW: The "welcome home" ceremony by our government is yet another desperate attempt by a failing empire to try to defend an indefensible policy.
It is shameful that they continue to cater to extremist interests in South Florida, in order just to win a few votes.
FC: What are the possible sanctions for the people who traveled to Cuba with the Caravan?
LW: Last year, more than 100 participants in recent Pastors for Peace caravans received letters from the [U.S. Treasury] Office of Foreign Assets Control, threatening them with fines for traveling to Cuba.
We fully expect people to receive letters again this year demanding information or a pre-penalty notice. There are new people in that office making it very hard for people traveling to Cuba.
FC: Why do you care so much about Cuba?
LW: There is no perfect country. But the country closest to perfection is Cuba. I think that the world needs Cuba, and this is why this country will keep on growing and working to improve its own path. I love Cuba because it deserves it, and because Cuba loves us and it loves the world.
(Pastors for Peace is a project of the Interreligious Foundation for Community Organization (IFCO), a national ecumenical agency which has been working for social justice since 1967.)