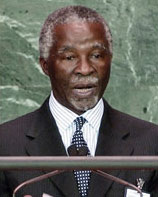 CAPE TOWN, South Africa (PANA) – South African President Thabo Mbeki has joined world leaders in expressing his country's outrage at the bombings of the Lebanese town of Qana by Israel.
The South African Government said there would be no "military solution" to the problem in the Middle East, and it called on the international community to do everything in its power to stop the fighting.
Meanwhile, South Africa's ruling African National Congress (ANC) has joined many across the world in condemning in the strongest terms possible the Israeli airstrike on the Lebanese village of Qana, which killed at least 50 people, most of whom were children.
It said this latest atrocity on a civilian population demonstrates the urgency of an immediate ceasefire and the peaceful resolution of hostilities.
The ANC has once again expressed grave concern about the catastrophic humanitarian crisis in Gaza and Lebanon.
It reiterated the call of its National Executive Committee for an immediate ceasefire by all sides; a negotiated solution of the Israeli and Palestinian prisoner issue and the UN Security Council to discharge its responsibilities and act with urgency to enforce an immediate ceasefire.
The ANC statement called on the UN, on the basis of various UN resolutions, to seek a peaceful comprehensive solution, the international community and the South African Government and people to respond to the catastrophic humanitarian tragedy in the region.