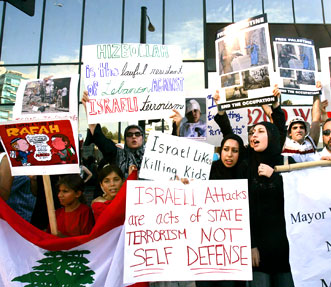 NEW YORK (FinalCall.com) – The western media would have every one believe that there are no voices of opposition against Israel's attacks against the people of Palestine and the people of Lebanon. However, there are many people in America and worldwide speaking out against Israel's actions.
"The pro-Israeli spin doctors are in full battle-cry, sending e-mails, articles and making phone calls wherever necessary. The radio and television hosts make a great pretense of 'journalistic inquiry' as they skew their shows against the Arabs and in favor of the poor Israelis," writes Jeff Siddiqui, of American Muslims of Puget Sound, in Seattle, Wash.
"The blood in Gaza and Lebanon is on George Bush's hands," writes the Manhattan-based International Action Center in their press release from July 13 which calls for demonstrations in New York against what they termed "Israeli aggression."
The Party for Socialism and Liberation in a July 13 article claimed that all progressive, anti-war and working class forces should stand with the oppressed peoples of the Middle East and demand an end to the U.S./Israeli war.
"The fundamental causes of the unfolding war are indisputably clear: The United States government is seeking hegemonic domination over the entire region. To achieve its goal, Washington is seeking to crush the popular resistance movements in Palestine, Lebanon and Iraq; and to overthrow the governments of Iran and Syria," the Party for Socialism and Liberation stated.
"What is happening now is another link in a long chain of tragedies that have taken place since the inception of Zionism, not with the creation of the state of Israel; but starting in the beginning of the 20th century with the creation of Zionism, which made their nationalism in an occupied land," stated Rabbi Yisroel Dovid Weiss, of the Neturei Karta International, located in Monsey, N.Y. Standing across the street from the United Nations, Rabbi Weiss explained to The Final Call that "Zionism and the state of Israel were the main cause of the exacerbation of anti-Semitism universally."
"We pray to God every day for the speedy and peaceful dismantlement of the state [Israel], and the transformation to the self-rule of the indigenous people [the Palestinians] so we may live in harmony," Rabbi Weiss stressed.
Also, on July 17, more than 400 people rallied in front of the Israeli consulate in San Francisco, calling on "U.S. Jews to speak out against the siege of Gaza and the bombing of Lebanon." The demonstration was called by Break the Silence, Jewish Voice for Peace and Jews for a Free Palestine, a group of Bay Area Jews who sponsored a July 17 press statement which read, in part:
"As Jews, we cannot and will not remain observers of crimes committed in our name. We call on all people who believe in justice and peace to take a principled stand against this brutality."
Getting back to the pro-Israeli spin-doctors. According to Mr. Siddiqui, an American Israel Public Affairs Committee (AIPAC) spokeswoman told CNN recently that Congress's overwhelming support for Israel reflects the support of U.S. voters and not any pressure applied by lobbyists. "American people overwhelmingly support Israel's war on terrorism and understand that we must stand by our closest ally in this time of crisis," the AIPAC spokeswoman said.
Mr. Siddiqui also published a letter he received from an American White male, who wrote, "I would have to disagree with her comments. I am a 36-year-old White, middle class male, a U.S. citizen, living just outside of Seattle, Wash. and I find it appalling what Israel is doing and I am not alone in my thoughts."
The Jewish Voice for Peace (JVP) reported that the Presbyterian General Assembly of the Presbyterian Church U.S.A., voted to "use economic pressure" to end the occupation.
"Jewish Voice for Peace applauds the Presbyterians for standing fast to their principles while also showing that they are willing to go the extra mile to maintain positive relationships with Jews across the spectrum of our community," JVP stated on their website.
According to published press reports, the U.S. was not the only place where anti-Israel protests were taking place. In Germany, more than 1,000 Lebanese and Palestinians staged a protest at Berlin's Brandenburg Gate on July 17.
In Pakistan, there were demonstrations at which protestors burned Israeli flags, while thousands of Syrians showed support for the Lebanese people. In Daka, Bangladesh, Muslims gathered in protest and chanted slogans denouncing Israel's attack on Lebanon while in Jakarta, Indonesia, the Antara News reports that more than 5,000 Indonesian Muslims rallied to denounce the military strikes on Gaza and Lebanon.
Lastly, a letter on the website of the International Association of Democratic Lawyers (IADL), a non-governmental organization of jurists, condemned Israel's effort to "undermine the elected Palestinian Legislative Council," because IADL "believes that Israel has used the killing and capturing of their soldiers as an excuse to invade Gaza. What Israel and its benefactor–the United States–really want is to destroy the democratically-elected Hamas government."