UNNEWS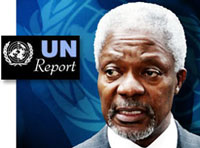 (UNITED NATIONS) – Secretary-General Kofi Annan expressed shock and deep distress over what he called the "apparently deliberate targeting" by the Israeli Defence Forces (IDF) of a United Nations observer post in southern Lebanon that has killed two military observers, with two more feared dead.
"I call on the Government of Israel to conduct a full investigation into this very disturbing incident and demand that any further attack on UN positions and personnel must stop," Mr. Annan after hearing of the attack on the post of the UN Interim Force in Lebanon (UNIFIL) in Rome, where he arrived today for talks on the explosion of violence in the Middle Eastern country.
In his statement, Mr. Annan said that the "coordinated artillery and air attack" occurred despite personal assurances given to him by Israeli Prime Minister Ehud Olmert that UN positions would be spared fire. The Secretary-General said the post, near the Lebanese town of Khiyam, was "long established and clearly marked."
In addition, he said the UN Force Commander in south Lebanon, General Alain Pelligrini, had been in repeated contact with Israeli officers throughout the day, stressing the need to protect this particular UN position from attack. At least 14 incidents of firing close to that post have been reported since this afternoon.
Mr. Annan said that the names and nationalities of the fallen peacekeepers were being withheld pending notification of their families, to whom he extended his condolences.
With UNIFIL positions hit frequently since the current crisis began, four members of the mission's Ghanaian battalion were lightly injured yesterday evening when a tank round from the Israeli side hit inside their position, while this morning, Hezbollah opened small arms fire at one of their convoys, causing some damage but no casualties, according to a press statement.
Hours before the UN military observers were killed, the Security Council discussed the beleaguered mission's future.
The 15-member body met with the countries that contribute troops to UNIFIL before holding consultations that included a briefing by the Director of the Asia and Middle East Division of the Department of Peacekeeping Operations, as well as discussing Mr. Annan's latest report on the Force, a UN spokesman told reporters.
In his report, released yesterday, Mr. Annan said the upsurge in violence since 12 July had "radically changed the context" in which UNIFIL operates and he recommended its mandate be increased only for another month while all possible options for southern Lebanon are worked out.
Before the recent violence, the Lebanese Government had called for a six-month extension of UNIFIL's mandate, but Mr. Annan wrote that the "circumstances conducive to United Nations peacekeeping do not exist."