By Richard Muhammad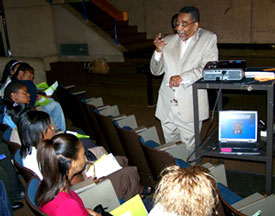 CHICAGO (FinalCall.com) – The month of March was not a good one for Rep. Bobby Rush, with the tragic deaths of two young girls killed by stray bullets fired on the streets of Englewood.
The Democratic congressman didn't despair. He went to work convening major corporate, political and community leaders. He called for a joint effort to bring resources into the community. His work got major press. The governor came to Englewood twice, promising several hundred summer jobs for youth with his second trip. At the same June press conference, Rep. Rush also announced a major job effort for young people.
His promises have been kept.
A month after the announcements, several hundred youth walked out of Kennedy King College with job assignments in hand and eager to start weeks of work, leadership development and community service.
"It's a real joy to my heart to be able to see these young people who are taking a tragedy and turning it into a triumph," said Rep. Rush, who walked around and talked to youth, before speaking at an all-day orientation session at Kennedy King College, which included an assembly in the auditorium.
"They are disciplined, they are desirous of a better life and it's up to us to make sure they have all that they need," he said.
Seventeen-year-old Steven Gayles spent most of the day June 7 inside Kennedy King College, standing in line since 8 a.m., getting his application checked, moving from the auditorium to a classroom and from orientation participant to summer employee.
"It was long, but it was decent though," said Steven, who will graduate from Paul Robeson High School next year.
The orientation session for the jobs and development program was run by Teamwork Englewood, which will also administer the effort. The program will eventually provide jobs for 1,000 young people.
Jobs are paid for by a combination of money raised through the congressman's Hope and Healing Initiative for Englewood, the city, and the state's Team Illinois program, which added a youth jobs component.
The focus on Englewood followed the deaths of "angels" Seritha White, 10, and Starkesia Reed, 14, from stray bullets in March. The deaths struck a chord in the city, prompting politicians, including Gov. Rod Blagojevich, clergy, police officials, residents and community leaders to agree that something needed to be done.
The neighborhood was awash in marches, vigils and news crews as the tragedy reverberated across Chicago, leading to a citywide anti-violence rally. Still many wondered if there would more than promises, once the media spotlight was turned off.
Hope for healing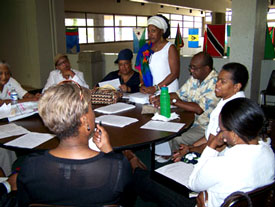 Rep. Rush's Hope and Healing task force is composed of Chicago-area corporate, political and religious leaders. It grew out of a breakfast he held shortly after the deaths. Summer jobs are the first agenda item, but a basketball tournament, youth cotillion, concerts and back-to-school events are planned, said the Democratic lawmaker. He credited community leader Hal Baskin, of PEACE, an anti-violence group, for spurring his effort to make sure there were more than just marches.
There were no summer jobs in Englewood the past two years, said Rep. Rush. This year, youth are "exuberant with enthusiasm and expectations for the future. It's up to us, as adults, not to fail these young people," he said.
Rep. Rush and other speakers during the auditorium session included Alderman Latasha Thomas (17th Ward), Fredrenna Lyle (6th Ward), Kennedy King College President Clyde El-Amin and Gloster Mahon, special assistant to the head of the state Department of Human Services.
Mr. Mahon talked about the importance of early work experiences to help youth understand the need to be self-sufficient. The aldermen, who will have youth workers in their offices, also promised to make them work hard.
Ms. Thomas offered advice about proper job etiquette and Ms. Lyle urged the young people to take advantage of this opportunity.
"We're going to build your resume; we're going to build your skills. We want folks to know we are proud of the folks we produce in Englewood," she said.
The session in the auditorium featured an audiovisual presentation about the program, its sponsors and three girls, Seritha and Starkesia, and Ryan Harris, an 11-year-old whose rape and murder in 1998 drew significant attention and a visit to Englewood by then-president Bill Clinton.
The newly-hired summer workers moved from the auditorium to classrooms where most met with employers and went through an orientation. It included a discussion of what things like punctuality and work ethic meant, and why success was important, especially coming after the deaths of the girls.
Teamwork Englewood Executive Director Wanda White-Gills stressed the program wasn't just about jobs. Most youth will either work for a local politician or community organization and will take part in neighborhood projects, she explained, adding that they will also meet once a week for sessions that develop leadership skills, foster personal networking and increase their general base of knowledge.
Youth had to register themselves, complete applications and undergo interviews before their selection. It was a competitive process to help youth understand they have to compete in life, she explained. The youth also have the opportunity to forge relationships with employers that could last well beyond the designated eight-week job placement, she noted.
For Teamwork Englewood, coordination of the orientation and the overall program took a lot of effort, supported in part by college interns, who helped run the application and orientation process and will serve as site coordinators for about 20 locations.
The youth work also fits into Englewood's Quality of Life Plan, forged by residents over two years ago, which called for expanding opportunities for youth and changing the community's perception of itself through block-by-block projects, Ms. White-Gills said.
"It's a great opportunity for everyone. Englewood has a very bad name and it's time for us to do something about it really. It gives us the chance to build our resumes, build character, and make a little money on the side," said Derek Foster, an 18-year-old graduate of Simeon Career Academy, who plans to attend a technical school in the fall. This summer he will work for Alderman Lyle. He found out about the job after volunteering at a church after-school program.
Jasmine, an 18-year-old headed to college at the University of Arkansas-Pine Bluff, agreed that the program was a good alternative to youth doing nothing or getting in trouble. She, like some others, also felt it should not have taken death to make things happen. Still, Jasmine was enthusiastic and looking forward to making money to help pay college costs.
"I just hope they keep doing it, so that more kids in Englewood can have more jobs," she said.
Martha Calhoun, a ministry intern with the Salvation Army, was impressed by her summer crew. "They gave great answers, they were very quick," she observed. The youth may be employed at a summer camp, a daycare center or other Salvation Army program.
By striving hard and having pride, you can create a "beautiful Englewood and make people remember how far you have come as a community," she told her summer charges.
(Richard Muhammad writes about Teamwork Englewood for LISC/Chicago, a major financial supporter of the community organization.)