Ron Walters: Why Blacks Don't Vote Republican (Chicago Defender, 07-05-2006)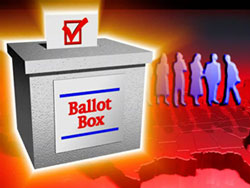 WASHINGTON (FinalCall.com) – House Republican leaders postponed a vote on renewing the 1965 Voting Rights Act June 21. That same week, the Republican-controlled Senate refused to raise the minimum wage above $5.15 per hour, and the Republican-dominated House repealed much of the estate tax, on inheritances as large as $10 million.
The decision to postpone the floor vote on renewal of the Voting Rights Act was made following complaints from southern Republican lawmakers that the reauthorization unfairly targeted their nine states for federal oversight.
The current provisions of the Voting Rights Act don't expire until 2007, but leaders of both parties had hoped to pass the renewal this year, ahead of the fall midterm elections. The law was originally passed to reverse years of disenfranchisement of Black voters, especially in the South.
"We are extremely disappointed that the Voting Rights Act was pulled from (the) legislative calendar," Congressional Black Caucus Chair Melvin Watt (D-N.C.), said in a statement. "We fear that pulling the bill could send the wrong message and that delaying consideration until after the July 4th recess could give those with partisan intentions space and time to politicize the issue."
The NAACP agrees that foot-dragging on this measure could return the country to a time when the rights of Blacks and other ethnic minority group members were not protected or enforced.
"We are very disappointed that a few extreme Congressmen have been able to derail this process, at least temporarily," NAACP Washington Bureau Chief Hilary Shelton told The Final Call. "It is our hope that the House will pick this bill up as quickly as possible, take it to the Floor, and allow the full 435 voting members of the House to vote on this bill."
Delaying the vote at this time was a calculated decision, according to one analyst. It's meant to "de-criminalize the Republican Party's new game of challenging voters of color by the hundreds of thousands," writes commentator Greg Palast in The Guardian.
In the 2004 presidential race, the GOP ran a massive multi-state, multimillion-dollar operation to challenge the legitimacy of Black, Latino and Native American voters. The methods used broke the law–the Voting Rights Act. And while the Bush administration's Civil Rights Division looked the other way, civil rights lawyers are now preparing to use the law to stop the violations of the Act before the 2008 race.
The behavior of two House members stands out, said Mr. Shelton. "Congressmen Lynn Westmoreland and Charlie Norwood, and a few others from Georgia," he noted. "We believe the U.S. House of Representatives should not recess until this bill comes to the floor to be voted on and is passed by the U.S. House," he continued.
"These are a few fringe members of Congress that are trying to derail this process. Sadly, these are also people who come from the states that are the biggest detractors of the Voting Rights process as we know it today," he added. "Indeed, these are states when we talk about Georgia, we're talking about Texas, and a few others that have some of the most egregious records on discrimination in the voting process in the country."