Banjul, The Gambia (PANA) – Presidents Mahmoud Ahmadinejad of Iran and Hugo Chavez of Venezuela were among foreign observers attending the 7th AU Summit which opened in Banjul, the Gambia, Saturday.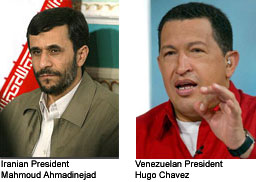 They joined leaders from most of the 53 AU Member States at the opening of the summit, which has the main theme of African integration.
President Chavez, who arrived at Banjul Saturday morning, is attending his first AU Summit since November 2005, when Venezuela was given an AU Observer status.
A Venezuelan journalist accompanying Chavez told PANA that his (Chavez) presence at the meeting was an indication of his interest in Africa.
"It is also in the spirit of South-South cooperation, as well as in furtherance of Venezuela's foreign policy aimed at bringing the five continents together to achieve a plural polar world," the journalist said.
Ahmadinejad is also attending his first AU Summit since his election in June 2005.
Summit host President Yahya Jammeh invited the Iranian leader, who arrived in the Gambian capital Thursday.