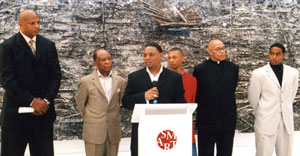 CHICAGO (FinalCall.com) – "Every child is the creation of God–and God does not make mistakes," declared Father George Clements to the applause that punctuated his concluding remark of his keynote of a VIP reception of city officials, community activists, youth and artists focused on "Countering the Negative Images of Black Men and Boys."
In the intimate foyer gallery hall of the Smart Museum, the Metropolitan Area Group for Igniting Civilization (MAGIC) hosted the energizing evening event June 16, preceding a women's roundtable breakfast the following morning on "Women's Solutions to the Problems Facing Black Men & Boys" held on the campus of the University of Chicago, where Secretary of Illinois Department of Human Services, Dr. Carol Adams delivered an informative and challenging keynote. Nationally acclaimed for her expertise in developing programs that promote self-sufficiency, human capital development and neighborhood revitalization, Dr. Adams was the first social scientist to guide the mammoth human services program at the Chicago Housing Authority as director of its Resident Services Division. The highlight of both events were the remarks and musical performances by NBA legend Terry Cummings from his debut album, Nothing Is What It Seems. (See page 37 for a one-on-one interview with Mr. Cummings on fatherhood.)
The reception began with a brief press conference, where the collaboration of several Chicago area youth programs was revealed. Pooling their expertise and pledging to coordinate activities, the grassroots organizations–Victory in Christ, MAGIC, Lilydale and Kids Off The Block–are poised to effect an increased positive impact on the youth in our communities. The gathering also marked the official launching of a new initiative, Urban Brothers United (UBU) of MAGIC, patterned after its successful five-year-old mentoring program for girls, United Sisters of Civilization (USoC), an innovative entrepreneurial 10-week program designed to develop leadership skills and life opportunities for young women ages 13-18. It also offers young women experiential opportunities to develop their personal, social, and business skills.
Morning glory
Attentive participants of the women's roundtable were guided through an inspiring program by emcee Monique Carradine, a media professional for more than 10 years, who has worked in almost every aspect of the business including television, advertising, public relations and radio. She stressed that our children are the greatest place that is worthy of us placing our energy.
"The greatest thing we could do for young people is to let them know that they are not bound by anything," Ms. Carradine recited, acknowledging an unknown source for the famous quote.
In a touching testimony of the change in her 13-year-old daughter after participating in MAGIC's girl mentoring program, Dianne Burke recounted refinement of her language and improvements in her positive focus.
"Instead of throwing our arms up in the air saying we don't know what to do with our children," she insisted, "it is time to throw our arms around our children and say now is the time for us to do something about it."
She shared that the name of "MAGIC" captivates the mind when you first hear it. Through the program, she said that youth "develop into citizens that we can be proud of, with smiling faces, saying, 'Yes, I am able to do it!"
Mothers must examine their language and behavior since they are the first teachers of their children, advised Dr. Adams during her remarks. "If our sons are not correct, we must ask what have we done. What about your household? Is it in order?"
Collective work of change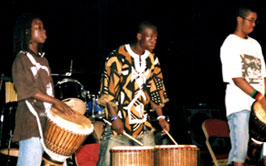 If children have proper direction, this will lead to correction, she asserted, taking the process a step further. "Young people who have the benefit of right guidance and the village are self-corrected," she said.
Dr. Adams went on to advocate a list of several changes to improve the conditions of our communities. Parents should maintain consistent monitoring of their children's air time of television, cell phone and computer use, in order to arrest the development of negative thoughts into negative behaviors. As a community, Black people need to return to stressing proper decisions earlier in life in order to turn around the realities of casual childbearing and children having children. Parents need to once again expand the threshold of their households to embrace troubled youth of family members, as well as giving youth proper reference points that can be as simple as a good name.
"If you decide that you want to name your child after liquor, you have a problem," she chided. "Even nicknames give them the wrong perspective."
If parents do not have any positive organizational alternatives to street life for their children, Dr. Adams urged them to create a program to fill the gap of support. Furthermore, parents should not isolate the struggles of their family from the larger challenges of the community, and instead, connect their children to the community, which will give them a sense of belonging. Referencing the statistic of one percent of teachers are Black males, she encouraged more Black men to go into the profession to increase the positive influence on Black boys in a broken school system, as well as urging professional men in other fields to invest more time in classrooms.
"We must do everything we do with a purpose," she stressed, "because of the unprecedented challenges facing our youth who are the prey of so many people. We must protect even those we feel are creating havoc in our community, because they are crying out for direction, order, discipline."
The greatest challenge she noted was keeping our youth alive and out of jail, which must be regarded as the collective work of our community in order to ensure the survival of our people.
"We should be thinking about this every single day. It is the work we exist to do," she concluded. "We must do it with intention and resolve. Work and never tire."