FCNNEWSSOURCE
National Hurricane Center Tracking Map (NOAA)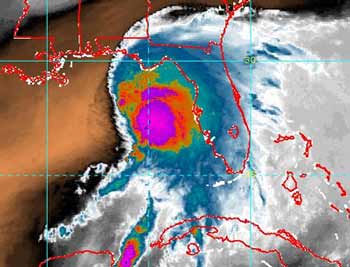 (FinalCall.com) – The National Weather service altered previous predictions Monday and issued hurricane warnings for parts of Florida's coast as the first named tropical storm of the 2006 Atlantic hurricane season unexpectedly gained strength in the Gulf of Mexico.
Tropical storm Alberto was located nearly 200 miles off the Florida coast increased wind speeds from 50 mph to 70 mph in a matter of hours. According to the National Hurricane Center, the storm took a slight northerly turn heading north-northeast at 7 mph.
After 2,280 recorded deaths and damages of over $100 billion, the 2005 hurricane season which included the devastating hurricane's Dennis, Katrina and Rita was the most active Atlantic hurricane season ever recorded.