UNITED NATIONS (FinalCall.com) – Hip hop mogul Russell Simmons, Rush Communications Chairman and CEO of the Hip-Hop Summit Action Network, gave the keynote address to over 2,000 students from around the world acting as UN ambassadors at the United Nations Association of the United States of America's (UNA-USA) Global Classrooms Model UN conference on May 18.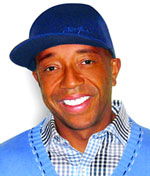 The conference mobilizes students to tackle world issues such as globalization, prevention of nuclear terrorism and the situation in Darfur. The students actually meet in the various UN conference rooms where they step into the shoes of ambassadors to debate and resolve these current global issues.
"Education is a key element in the fight against poverty and ignorance," Mr. Simmons said, adding, "UNA-USA's Global Classrooms' program is a wonderful opportunity for young people to connect with and be exposed to the cultures of their Sisters and Brothers around the world and to learn valuable tools for addressing the world's problems which help them in all walks of life."
"Global Classrooms has been successful in exposing students from diverse backgrounds to a more inclusive way of thinking, understanding and interacting," said Dr. Lucia Rodriguez, vice president of UNA-USA. "Armed with this new perspective, students feel empowered to take an active role in shaping their own future."
"I want to talk to them about activism, and what motivates people to give," Mr. Simmons told The Final Call during an exclusive interview in the corridor outside of the Great Hall, where he would deliver his address. He explained to the youth sitting in the seats normally occupied by the UN's 191-member states, that each one of them could make a difference, and stressed the need to learn their purpose on earth. He also emphasized the need for them to understand scriptures so that they would best understand empowerment of the individual to do good for humanity.
"You also must understand the plight of the poor–the 12 billion people living on less than a dollar a day. It's up to you to become a happy useful important part of this world," he encouraged.
Mr. Simmons also felt that it was important to expand students' understanding of what was happening in Darfur. Young people should understand that sometimes people who get involved really don't have an interest in peace, he explained. He told The Final Call that many were probably upset with his recent speech at a rally held in Washington, D.C. around the issue of Darfur, Sudan, but he planned to reiterate his position with the young people gathered in the Great Hall.
"I noted that it was important to put pressure on the government (Sudanese), but some people were only interested in de-stabilizing the government, because they were more interested in the uranium and the oil than they were in the lives of the people at risk," Mr. Simmons stressed.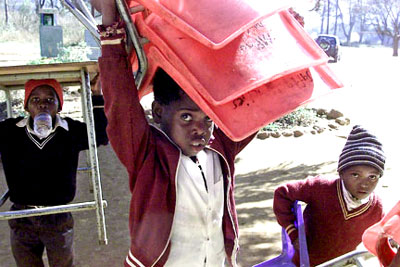 "The youth must understand that through dialogue, the Sudanese can solve what is a Sudanese problem," he added.
He also had an answer for his critics that ask what does he know of world issues. "It's an education all the time," he shared. "I know what I know from the Yoga sutras and the Scriptures and that is you put God first."
"Peace is not a state of meditation, it's an action; and the action of peace needs fuel, just like the action of war and that is simple," he said emphatically.
In another part of the world, Secretary-General Kofi Annan lectured the fourth European Union/Latin America and Caribbean heads of state summit in Vienna. On May 12, the secretary-general told those gathered that governments must deliver on the promise of the 2000 UN Millennium Declaration to "develop and implement strategies that give young people everywhere a real chance to find decent productive work."
"Today, young people between the ages of 15 to 24 are only a quarter of the world's working population, but they make up half of its unemployed," Mr. Annan stated. "The European Union alone has more than 4.3 million unemployed young women and men; Latin America and the Caribbean, over 8.8 million. Some seven percent of adults are unemployed in Europe, yet more than 18 percent of the young lack jobs. In Latin America and the Caribbean, the difference is similarly stark–15 percent of the young, compared to only 5.6 percent of adult workers, suffer from unemployment," he said.
Mr. Annan argued that widespread unemployment poses a particular challenge to democratic societies, where the failure to deliver jobs can weaken faith in democracy and undermine popular support for reasonable economic reforms.
"Persistent unemployment in developed economies such as those in Europe creates conditions that xenophobic and other extremist political movements seek to exploit," Mr. Annan told the heads of state.
"Clearly, there is a need to address these distressing trends, which are often most prevalent amongst groups with the highest unemployment, such as the youth," the two-term secretary-general concluded. "And with approximately 1.2 billion young people worldwide coming of working age in the next decade, these are problems that cannot simply be wished away."