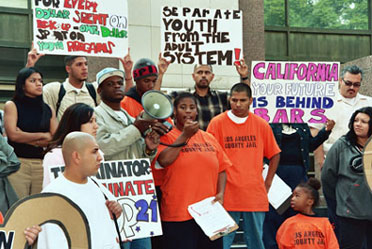 LOS ANGELES (FinalCall.com) – Youth advocates are calling for an overhaul of the state's youth corrections system, particularly its rehabilitation component, in an effort to reduce youth incarceration and recidivism.
Daniel Macallair, executive director of the Center on Juvenile and Criminal Justice, deems the state youth corrections system among the worst in the country as the current subject of a consent decree, and the focus of multiple lawsuits and problems.
In its March 31 "Safety and Welfare Plan Implementing Reform in California," the California Department of Corrections and Rehabilitation (CDCR) points out that its Division of Juvenile Justice is wrought with impediments including high levels of violence, unsafe conditions for residents and staff, lengths of stay almost triple the average for the nation, idle vocational classrooms, capitulation to gang culture with youths housed by gang affiliation and poor re-entry planning and too few services on parole. The report also suggests several remedies, such as mentoring, aggression replacement training, life skills training and job counseling for parolees.
Despite the problems facing youth on parole or probation and increased media coverage of juvenile crimes, Mr. Macallair told The Final Call that, "Youth are better behaved today than they have been in any time 40 years since we've been measuring." He noted that they peaked in 1992 and have been on a steady decline.
Arlee King works with the Youth Justice Coalition to help youth find employment after probation, a world he knows well. He entered the juvenile justice system when he was 15 years old and was released from probation the day after his 18th birthday last November. But during that time, he said, he flowed in and out of jail and youth and family services facilities because of half-baked services for rehabilitation.
"The system doesn't help with our education, like making sure that we're in a school where we'll flourish, instead of putting us in a school filled with gangbanging; or giving us a book and telling us to fill in the blanks, without any teacher interaction," Mr. King contended.
Youth activist Lamar Glover charges that the problem also rests with incarcerating people so young. "There's over-criminalization, like criminalizing youth behavior with gang injunctions. You don't even know you're on the list half the time, and some youth cannot live in the same house anymore even if they're siblings," he added.
Mr. Glover opined that viable rehabilitation can be derived from a staff of qualified teachers and alternative after-school programs and community structures.
The Youth Justice Coalition's (YJC) Kim McGill asserts that families and young people "need a lot less rehabilitation than the system does. When families treat their children the way system lock up, parole or probation do, then those children are taken away."
Some of the issues YJC is fighting against are the use of 23-hour lock-down with no human contact; heavy medication to subdue youth; denial of education or voting rights; misuse, abuse and misconduct of burned out staff; and pitting youth against each other by staff or guards.
"We really don't think that rehabilitation is what's needed, because it assumes that people are broken and need to be fixed, as opposed to seeing people based on their strengths and abilities, and helping them build from there," Ms. McGill insisted.
YJC prefers to use strength-based and community models that already know what their youth need, along with restorative justice models to restore hope and progress for communities. Restorative justice, she added, is about solving the initial conflict that brings people before judges.
She noted that Black youth make up 11 percent of L.A. County's population, but comprise 30 percent of the lock-up population and have longer sentences–but not because they commit more crime.
"If you look on the map, where there's the highest concentration of African Americans, that's the highest concentration of incarceration and people coming back from prison," she pointed out. "Policing is more intense in those communities, because there's less jobs and greater racism within the system."