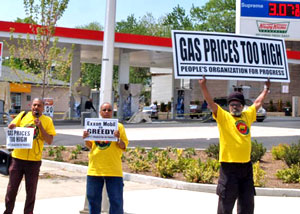 NEWARK (FinalCall.com) – The Peoples Organization for Progress, a Newark-based activist group, demonstrated in front of a gas station on May 6, protesting the rising cost of gasoline. Lawrence Hamm, chairman of the group, somehow managed to formulate a chant that described his personal dilemma. "I told anyone in earshot that I could not give my daughter lunch money because I need to buy gasoline to get to work," Mr. Hamm told The Final Call. "It costs me $56 to fill up my Dodge Caravan," he said.
He said that for two hours people passing the station where they were demonstrating honked their horns. "It seemed to get louder and louder," Mr. Hamm exclaimed. "We believe that this one issue got the greatest response from the people in the streets. We are out there protesting such issues as police brutality and the war in Iraq, but this was the one that resonated well with our people," he stressed.
He also informed that they plan to demonstrate the next time in front of the corporate offices of the oil corporations.
Activists across the nation are in motion against the high price of gasoline. There was a call to boycott the gas pumps on May 19, called "Stick it to Them Day"–referring to the oil companies. "The people of this nation should not buy a single drop of gasoline on that day," stated an email message alerting people to the protest.
Critics of the gas-out day vented in big numbers on their blogs and Internet (Snopes.com) message boards condemning the protest a waste of time. Bloggers noted that the same thing was tried in 1999, and in 2000, a three-day protest was called in Canada and in the U.S. Critics said both days had no effect on retail gas prices. One blogger stated that, "An effective protest would involve organizing people to not use their cars on specified days–an act that could effectively demonstrate the reality that, if gasoline prices stay high, American consumers would find alternative modes of transportation."
A message posted at indianagasprices.com stated: "Price is determined on the free market by supply and demand. If you want to lower prices, you must reduce demand by actually using less gasoline."
Ironically, May 15-19 was celebrated as "National Bike to Work Week," culminating with celebrations in cities such as Minneapolis, Minn., Salt Lake City, Utah, and in Washington, D.C., with events sponsored by the California-based Bicycle Dealers Association. One representative told CNN that bike shops nationwide are reporting that people are "buying new bikes or repairing old ones."
The director of the National Center for Bicycling and Walking, based in Bethesda, Md., told CNN that, "People are starting to look for fundamentally different ways to travel."
Askia Muhammad, White House correspondent for The Final Call, said he has been riding his bicycle through the streets of the District of Columbia for the past 12 years. "There was a noticeable celebration here on the 19th, with many people riding their bicycles," Mr. Muhammad said, noting that Washington, D.C. has been a biker-friendly city for some time, but there needed to be more bike lanes.
He maintained that there were other good reasons for riding a bike other than saving money. "Bicycling is good for cardiovascular exercising and good for the environment," he offered.
He said that he did not notice more Blacks riding their bikes on Ride Your Bike to Work Day. "It isn't the cool thing to do. Maybe when gas reaches six to seven dollars a gallon," he opined.
Mr. Hamm says that he believes that the issue of gasoline prices is beginning to gather steam in the Black community. "I know of people who are paying more for gas a month than they have to pay for their car note," he shared. "More and more our people see the connections to the Iraq war and how it is impacting their everyday lives."