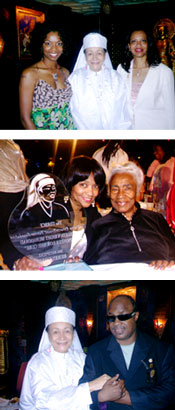 HOLLYWOOD (FinalCall.com) – The 7th Annual Founder's Day Celebration is a concert benefiting the Denise Roberts Breast Cancer Foundation (DRBCF). This year's brunch at the West Hollywood House of Blues Apr. 30 featured many long-time favorites, such as prayer, tunes by the House of Blues Gospel Choir, a scrumptious buffet, silent auction and gift baskets. In addition, guests were graced with a special address by Mother Tynnetta Muhammad, a ballad series by R&B hit-maker James Ingram and a surprise guest appearance by music icon Stevie Wonder.
Singer Sylvia Saint James opened the affair and actress Vanessa L. Williams (television's "Soul Food") carried the guests through a journey of praise, dance with the Divine Hands Dance Troupe (created by Syreeta Muhammad to foster cultural and artistic expression within young girls) and a flashback performance by Mr. Ingram.
Denise Roberts, a 19-year breast cancer survivor, established the DRBCF, which is dedicated to the research, treatment and cure of breast cancer. Last year, it presented Mr. Wonder with the first Syreeta Wright-Muhammad Pioneer for the Cure Award, created to honor the legacy and work of the Motown singer and songwriter, who succumbed to cancer two years ago. This year's recipient was Sis. Syreeta's mentor and friend, entertainment legend Berry Gordy. His niece, Iris, accepted on his behalf, however, he shared these words about Sis. Syreeta via a videotaped presentation:
"Syreeta was one of my most favorite people in all the world; the most dedicated with a heart more pure than everyone I've ever known. She left a legacy of love and artistry. Her voice, whether talking or singing, was so beautiful, rich, versatile. She was taken from us much too soon, but the proof of her love lives through her wonderful children–Hodari, Jamal, Tkeyah, Harmoni–and her mother Essie. I thank the Denise Roberts Foundation for creating this award, which will always keep Syreeta's memory alive. For this, I'm grateful."
Brief yet powerful, Mother Tynnetta's talk, entitled "Living In The Solution," reflected her love for Sis. Syreeta, and the importance of womanhood and motherhood. She shared that Sis. Syreeta was very close and a comfort to her, and that she appreciated the event as an opportunity for everyone to honor her, as well as to become more conscious of how to honor the temple of God, referring to the body.
Mother Tynnetta urged that a careful examination of the body would reveal its connectivity to God and the cosmos.
Reflecting on the matter at hand, she questioned, "What is the breast? It is not the breast of man, but it is the breast of God; the breast for nurturing men and women."
She told the rapt audience, "We must respect mother and motherhood; respect that she's not only your mother, my mother, but she's the ancient of ages. She sits on the throne of heaven."