FCNNEWSSOURCE
'It's bigger than hip hop' – Interview with Stic.Man of dead prez -Pt. 1

A reward of $40,000 was once offered for the capture of Harriet Tubman based upon her labor in the cause of aiding over 300 men and women to escape the confines of chattel slavery. This is also the rationale for her affectionately being called Moses. The liberation of the Black slave was so ingrained in her heart that she literally risked life and limb to see her people free from physical bondage. If she had been an emcee, her slogan may have been "Get Free or Die Tryin.'"
In a modern context, freedom is an expression of hope that is being spread due to the efforts and sacrifice of those who continue to struggle despite what appears to be insurmountable adversity. dead prez is a tandem of artists who are more than willing to shoulder some of that burden.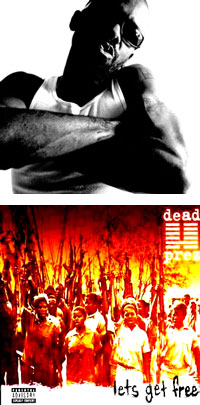 Forming a bond at Florida A&M University, M-1 and stic.man became active in the surrounding community and soon after moved to Brooklyn, N.Y. where they met Brand Nubian's Lord Jamar. This meeting spawned a deal with Loud Records that led to the release of their underground smash debut Lets Get Free. Since then, they have put out the Turn Off the Radio mixtape and the sophomore album RBG: Revolutionary But Gangsta, which was released through Sony Urban Music/Columbia. In part two of an exclusive one-on-one interview with Final Call Entertainment Contributor Damon Muhammad, stic.man speaks on community activism solo projects and the battle over the minds of young hip hop fans.
Final Call (FC): I have also seen the previews for the release of Dave Chappelle's movie, which was the filming of the block party he held last summer in Brooklyn, N.Y. What was the vibe like between the artists and the crowd that day?
stic.man (stic): It was real fun and kind of like a frenzy. He was trying to coordinate his favorite 12 groups in the middle of Brooklyn. They were only trying to let certain people know and the whole community found out (laughing), but it was all good. There was camaraderie amongst the artists. We helped each other out in the performances.
Dave is one of the funniest dudes I know. It was good energy. We performed and he interviewed each person, but really you learn where Dave is coming from as a human being. He's much more than cracking jokes. I have a lot of respect for him because of what he does with his power, money and time to promote certain things in our community. People get offended sometimes because it's humor and he's going to stick you in the side and it may hurt you a little bit. The humor is what is allowing him to get as far as he's going with it.
The movie is funny, but it's a powerful thing because look how many artists in positions like him could be doing things like that who are not. In Dave's opinion, he made a conscious choice. The artists he chose were saying things that were progressive and relative to the community. This is a dude who everybody knows just got $50 million and doesn't have to be doing any of that.
FC: It's said that one of the most hated men is a man who is rich and shares his riches with the poor. That's what it seems that he's doing and what you are doing with your gifts. As far as the music, it seems as if children don't have a choice in what they listen to; there isn't a clean glass, just a dirty glass. So people are forced to drink poison.
stic: It's the same problem as when we were dealing with the issue of Black bookstores. I hope nobody would misinterpret that as me saying that we don't need Black bookstores, because we definitely do. That's how I got exposed to a lot of things growing up. They're key.
In the music that is supposed to be conscious, it's at the same level of consciousness that you find in Black bookstores. When we talk about the history and the so-called conscious music that's coming out, in my opinion it, is complaining and trying to alienate itself from the mainstream, and separate itself, which I can totally understand. In one sense, it is trying to figure out how we can make a difference with all of the (nonsense) that's going on.
I think that the approach is more harmful than helpful because, once you alienate yourself, you don't have that audience. The key to getting that audience, in our experience, is not to just attack whoever is on top. It's like respecting that person for giving what they have and what they're doing–and you do it, you bring it. What our mainstream community is saying, without saying, is that, "I'm listening to people talk about real things that I can do." Right or wrong isn't necessarily the issue (with them). It's just, "what can I really do?" Somebody telling you that you can hustle to get a Benz is something that you can do. But we have to tell people to make valuable choices and understand that that Benz is very expensive.
Furthermore, where are our (conscious artists) cars? I tell artists coming into the game not to perceive dead prez a certain way because of our voice in the music. I want to let people know that it's about playing chess or having strategy. It's about being businessmen as well as being cultural reporters. You don't want to be reporting the culture and people saying, "You don't even handle your business." What kind of independence are you demonstrating other than lip service?
In dealing with the Nation [of Islam], I know that's something that you Brothers understand because, regardless of religion, people have to respect the example, the code, and the leadership of your organization, your purpose and your being effective in the streets. We need much more of that. It doesn't always have to be a heavy political statement. If consciousness isn't ultimately about power and it's just about critiquing, then it's not really conscious. We have to be able to be more effective by giving solutions. That's what's up.
FC: Do you have any other upcoming projects?
stic: We also have a mixtapealbum coming out. Anybody that's familiar with our work, you know how we do. The mixtape is called 'You Can't Sell Dope Forever.' It is a collaboration album with dead prez and the Outlawz. People might be familiar with them from Tupac's camp. Young Noble, Edi, Stormey, Kastro, myself and M-1, we came together to speak to the drug question.
FC: Thank you.
(For more information on dead prez, visit www.bossupbu.com.)