FCNNEWSSOURCE
'It's bigger than hip hop' Interview with Stic.Man of dead prez Pt. 2

A reward of $40,000 was once offered for the capture of Harriet Tubman based upon her labor in the cause of aiding over 300 men and women to escape the confines of chattel slavery. This is also the rationale for her affectionately being called Moses. The liberation of the Black slave was so ingrained in her heart that she literally risked life and limb to see her people free from physical bondage. If she had been an emcee, her slogan may have been "Get Free or Die Tryin.'"
In a modern context, freedom is an expression of hope that is being spread due to the efforts and sacrifice of those who continue to struggle despite what appears to be insurmountable adversity. dead prez is a tandem of artists who are more than willing to shoulder some of that burden.
Forming a bond at Florida A&M University, M-1 and stic.man became active in the surrounding community and soon after moved to Brooklyn, N.Y., where they met Brand Nubian's Lord Jamar. This meeting spawned a deal with Loud Records that led to the release of their underground smash debut, Lets Get Free. Since then, they have put out the Turn Off the Radio mixtape and the sophomore album RBG: Revolutionary But Gangsta, which was released through Sony Urban Music/Columbia. In an exclusive one-on-one interview with Final Call Entertainment Contributor Damon Muhammad, stic.man speaks on community activism, his new book, solo projects and the battle over the minds of young hip hop fans.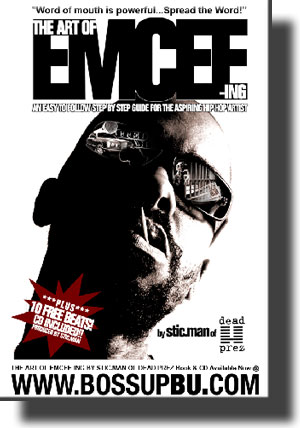 Final Call (FC):
How is dead prez involved in community development?
stic.man (stic): There are so many different things that need to be done. Me and my partner, M-1, are a group, but we are also individuals. M-1 is definitely a spokesperson for many different campaigns, like the Grassroots Artists Movement, which is similar to a hip hop workers' union, that is pushing for the rights of hip hop and music artists the same way trade unions do for mechanics and janitors. In the hip hop game, as artists, we don't have coverage for basic things like health insurance. That's one campaign that I'm proud to say that my Brother is a spokesman for.
Through our website bossupbu.com, we recently started a promotion for reparations with the N'COBRA (National Coalition of Blacks for Reparations in America) movement. I also just finished a book called "The Art of Emcee-ing" about the science of songwriting for hip hop artists. We had a contest based on the topic of reparations and we connected with N'COBRA to give the (participating) emcees information on reparations to see if we could put information into an art form, to get the word out and raise the awareness about that movement. We called the contest "The Big Payback." We got a lot of entries before the contest ended in January. The winner is going to be announced and released on my solo album coming out later this year.
There are countless things that we are involved in that aren't so public such as helping family members who are on drugs. In March, we did a contest through our website called "A Microphone Queen," because we recognize that there's no female voice in hip hop; there are many women who feel like the Lil' Kims, Foxy Browns and Trinas aren't their voice. So we put our money where our mouth is and put up $1,000 up and we're encouraging all of our Sisters who are rappers, poets, singers, monologue artists, etc., to enter the contest and let us know what your voice is.
We do health initiatives and anything that we can get involved with to back up the music and make our communities more livable. I never want to get it twisted as if we're not humble and don't recognize that there's so much more that can be done, or like we don't recognize the different organizations like the Nation of Islam that we take leadership from who are working 24 hours a day for the people. It's all about promoting the culture of independence and power and making it popular.
FC: What was the inspiration for your book and have you been getting a great deal of feedback on how it has helped aspiring emcees develop their craft?
stic: I started emcee-ing 19-20 years ago and a lot of people don't know that it's more than a career; it's more than a hobby, it's a way of life. It's a culture. It's something that you can invest your energy in and develop as a human being. Specifically, I noticed in working with different artists like Kanye (West), Erykah Badu, Jay Z, Scarface and Wu Tang, I was able to say, "Oh, this is how youwrite…" Badu would tell me that she takes an herb for her voice before going on stage. I wanted to give that information to new people coming in the game. The labels and the managers pimp artists for their royalties and their publishing and it happens over and over again. Even though the knowledge of this is out there, people don't really know what the alternatives are and how to stay on top of their business. We had a goal to hip people to the basics of the business.
What makes the book unique is that the book comes with free music. It comes with 10 tracks that people can do their mixtapes and demos to, that they can perform to and that they can practice writing to. They're all original beats that I produced. The other thing that makes the book unique is that it's a technique book. It's not a history book about who's who in the game or who sold the most records. How do you conquer writer's block? We got 15 ways you can conquer writer's block. How do you do a Dirty South flow as opposed to a traditional East Coast flow? How do you count the syllables in your words? How do you come up with your concepts? What is a hook? What is a verse? How do you heal your voice on the road? How do you give a live performance? What do you do in your sound check? When you're ready to record how far should you stand from the mic?
We went through "How To Be an Emcee 101." Real talk from people who do it. Because you have a lot of scholars and White folks at MTV and White (pop artists) these days who are trying to say that they are hip hop. The scholars want to tell us what hip hop is, but rarely do emcees and people who really live the culture speak on our own behalf. I thought that it was important for the legacy of what we're doing that at least somebody that has been (living the culture) can contribute to that conversation.
The motto of our company is "Boss up." Bossin' up is about anything you believe and anything that you create you have to own it. That comes from Garvey. That comes from the Nation. That's a principle that just doesn't apply to music, but in a humble way we attempt to apply this in our business. We are not just trying to have record deals and be artists waiting on checks. We want to offer opportunities and we want to be bosses. We want to do what Master P and some of the other record label owners that came from the community did. We want to do that with publishing and through multimedia, but we wanted to have a revolutionary message and purpose at the same time.
FC: There are many people out there who would really benefit from reading your book. Countless books have been written on hip hop history, but to write a how -to book on emcee-ing is essential.
stic: This is just volume one. There's different levels of information, and anytime you do something like this, you always want to be able to add on. This is opening that door. Boss Up is basically going to be dealing with the "how-to" aspect of books. What we feel is missing in our community is not necessarily cultural or historical information. In any Black bookstore that you go to in this country or in the world, you can find the basics of Black history. However, if you say, "I want to be an electrician so that I can rig up the lights for my family or my community," you can't find that information in a Black bookstore. You may find out that a Black man invented the light bulb, but you can't find out how to set up an electrical company.
We believe that the how-to books are just as important for our culture to grow and be independent. That's our commitment, to find out what the people want to do and need to do that will make us healthier, happier and more prosperous. We want to print those kinds of books and cut out all of the academic jargon and keep it in the language of the people. Real simple, but real thorough.
I've been getting great feedback from the people and emcees who have been reading the book and also from writers and poets in terms of the simplicity. I didn't try to get myself caught up in it. I just tried to give the information. Our people aren't dummies. We just need the information. That way we won't alienate people based on reading level. I believe the biggest reason why it's said that our people don't read or don't want to read is because the relevance of what we're reading isn't always apparent. Sometimes, you have to make it real simple.